Backlogs at citizenship offices leave applicants' lives in limbo
Jul 26 2012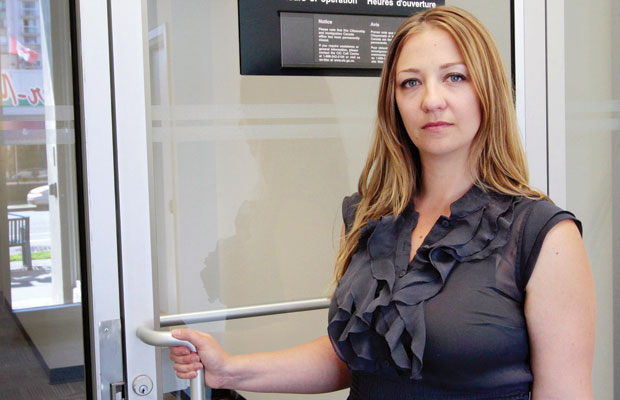 Katrina Bailey Wilson at the closed Citizenship and Immigration Canada office on Yates Street.
Photograph by:
Lyle Stafford , timescolonist.com (July 2012)
Australian Katrina Bailey Wilson isn't on the deed of her first Canadian home and has put off having a baby - all because her permanent residency application is sitting in a storage box after the federal government closed the regional citizenship offices.
"I call the call centre all the time, I don't know why, just to see I guess, but all the phone calls end in tears," said Wilson, 33. "I'm so emotional and so frustrated. I can't get an answer from anyone."
Would-be Canadians told the Times Colonist that the uncertainty and lack of communication from Citizenship and Immigration Canada since Victoria's office began shutting down in the spring is disrupting their lives.
The government announced in April that regional offices would close this summer as part of a budget measure designed to save $5.2 billion.
Overall, Citizenship and Immigration Canada cut about five per cent of its overall operating expenditures as part of its so-called deficit reduction action plan.
Citizen and Immigration Minister Jason Kenney told a Times Colonist editorial board Tuesday that backlogs are a problem at the national system centre in Sydney, N.S., due to a "huge surge in applications." However, he said, the backlogs have nothing to do with the closing of regional offices.
Still, Kenney said a lack of resources are a real problem.
"We can't provide faster service without more resources," Kenney said. "We just don't have the resources to process these things efficiently, to be honest."
As a result of the cutbacks and office closings, which took place in June, Victoria will lose nine staff and Nanaimo will lose two staff.
Victoria NDP MP Denise Savoie said her constituency office has been swamped with calls from residents unable to get information.
Wilson, who works in investor relations, has been in Canada for six years. Two years ago, she married Canadian Rob Wilson, 31. She applied for her permanent residency last July.
In February, Wilson was told her application was approved and processed and that she would soon have a "landing interview" in Victoria. She is still waiting.
Wilson said she regularly phones the office, only to be put on hold. She is told different information each time, if she's told anything at all.
On July 13, Wilson was told her file was in Vancouver. On Tuesday, she was told it was in a box in the Victoria office.
"There's nothing to plan around but uncertainty and no light at the end of the tunnel, at the moment," Wilson said.
Italian Francesco Cortini, a 33-year-old consultant, said it was apparent "there was no plan in place when the office was shut."
Cortini, who has lived in Canada for nine years and has a PhD from the University of Alberta, is married to a Canadian and has three children under 10.
He applied for citizenship 18 months ago. The maximum wait is supposed to be 19 months from receipt of application to citizenship ceremony. Cortini said his file moved in January to Victoria, where it has sat since.
B.C.'s only citizenship office is now in Vancouver. Victoria files are supposed to be transferred there.
Cortini has been told that he will be given the test before September:
"Clearly, they don't have a clue of the new date," he said. "My file is probably sitting somewhere in Victoria with no one taking care of it."
ceharnett@timescolonist.com
We thought you might also be interested in..