Driver flees crash, leaves passenger
Jul 26 2012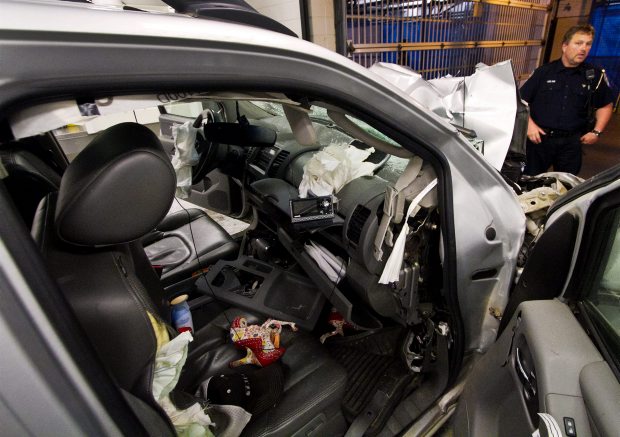 Victoria Police const. Neil Lundin shows a Nissan pick-up truck that crashed into a tree in the 1700-block of Rocklands Avenue.
Photograph by:
Darren Stone , timescolonist.com (July 2012)
A 20-year-old Edmonton man is in custody after a driver crashed into a tree on Rockland Avenue and then fled - leaving a female passenger pinned in the truck, screaming in pain from a broken pelvis and femur.
According to Victoria police, a driver - who police allege was drinking - crashed a pickup truck into a tree in the 1700 block of Rockland Avenue about 2 a.m. Wednesday.
An 18-year-old Victoria woman, who police said met the driver that night, was left in the vehicle hollering in pain.
Neighbours called 911 and rushed to the woman's aid, police said. Victoria firefighters and paramedics helped remove the woman from the truck.
"It took quite some time to get her out," said Victoria Police Const. Neil Lundin.
The woman was rushed to Victoria General Hospital, where doctors confirmed she had a broken ankle, femur and pelvis, police said. She underwent surgery Wednesday afternoon.
The man was examined in hospital, but suffered only "minor bumps and bruises."
While crash analysis is still underway, Lundin estimated the 2007 Nissan Frontier LE - which belongs to the man - took a corner while travelling between 70 and 80 kilometres an hour. The maximum speed limit in the area is 30 km/h.
The truck hopped a curb on the right-hand side, hitting the tree with such force that it crushed the engine compartment and sent its hood emblem hurtling 24 metres. The driver did not use the brakes, according to the crash analysis, and the impact was concentrated on the front passenger side.
A canine unit tracked the suspect, systematically covering territory until the dog picked up a scent. After a two-hour search, a man was located about 5 a.m. in bushes near St. Charles Street and Warren Gardens.
"He's from Alberta, so he had no idea where he was going when he crashed," Lundin said. "I think he continued to go around in circles a bit."
Police are still investigating. Charges have not yet been laid.
"The main thing about this is there's speed involved, there's drinking involved and then there's serious injury involved," Lundin said.
"So all that is going to add up to a charge of possibly dangerous driving causing bodily harm."
Lundin said the vehicle's safety features, including an extensive airbag system, saved the passengers' lives.
"The only reason these people survived was because they were both wearing seatbelts and all these air bags deployed," he said. "It's a real salute to the manufacturers of Nissan because this truck saved lives. And it wasn't because of good driving, that's for sure."
Police said they frequently catch people speeding on Rockland.
"You can't keep up with the amount of speeding tickets on that road," Lundin said.
asmart@timescolonist.com
ceharnett@timescolonist.com
We thought you might also be interested in..