Man suffers heart attack while riding bicycle, four honoured for rushing to help
Jul 27 2012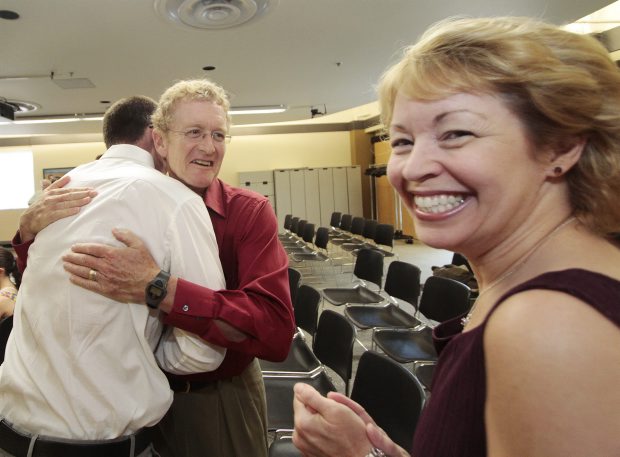 Heather Anne McRae smiles as Eugene Hahn, left, hugs heart-attack survivor Nicholas Woodiwiss during a B.C. Ambulance Service community award presentation.
Photograph by:
Lyle Stafford , timescolonist.com (July 2012)
Nicholas Woodiwiss, 62, was only about one kilometre from home when a neighbour watched his bike wobble, then fall into the street.

Woodiwiss's heart had stopped, but thanks to that neighbour and three others who came to his aid, he was alive and well at an event to honour their role in his revival.

Heather Ann McRae, Eugene Hahn, Gus McTavish and Brenda McPhail received the Vital Link Award from the B.C. Ambulance Service for their response.

"They did what is not performed in 85 per cent of all cardiac arrest cases," said Leanne Heppell, executive director of the B.C. Ambulance Service. "They performed CPR on Nicholas, as soon as they saw him fall — the minute they realized that his heart had stopped."

McRae got out of her car after she saw Woodiwiss topple on July 4.

His lips were blue — as was the area around his ear — and his eyes were fixed open. "There was no sign of any life," she said.

The educational assistant began chest compressions, which she learned to do thanks to mandatory training through School District 63. She said she prayed and asked her mother, who died 11 years ago, to either to give her strength to save Woodiwiss or help him if he died.

"A lot of things go through your head," she said. "It's a huge responsibility — someone's life is in your hands."

Hahn, a cyclist himself, was outside when he heard a gasp and recognized the sound of a cyclist hitting the ground. He ran to the road where he found Woodiwiss and McRae, and called 911.

McTavish, who is Hahn's father-in-law, put his hands over McRae's to help with compressions and Hahn — who remembered the first-aid training he took more than 20 years ago — took over when she got tired.

McPhail arrived soon after and kept Woodiwiss's head steady and cleared his airway.

Within a minute or two, the blueness began to fade. Though Woodiwiss was showing no signs of consciousness, McRae talked him through it.

"I said: Not on my shift, buddy," she said.

Only 14 minutes passed between the 911 call and the arrival of paramedics. But that time was critical, Heppell said.

"Even with the best technology, medical expertise and timely deployment of professional paramedics, the best chance of survival for someone who has cardiac arrest continues to be bystander CPR," she said.

Woodiwiss — who was in good physical form and had no family history of heart disease — was in a coma for two days.

"If I was to have another cardiac arrest, I guess today would be a good time," he said. "I'm lucky to be alive."

Only about 15 per cent of British Columbians know CPR, Heppell said. One-day courses are available through several providers, and recertification takes only half a day.

asmart@timescolonist.com

We thought you might also be interested in..
Notice
: Undefined index: event in
/home/viccity/public_html/v2/content.php
on line
67