Saanich Tribes member raises bar as the community's first lawyer
Jul 27 2012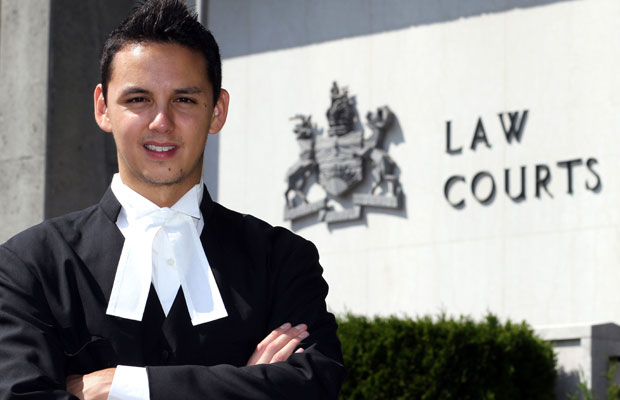 Robert Clifford, 28, says "I always feel I am capable of doing whatever I set my mind to." Now, after a ceremony celebrating his becoming a lawyer, he's intent on helping other young aboriginals.
Photograph by:
Bruce Stotesbury , timescolonist.com (July 2012)
Breaking new ground is tough, but Robert Clifford is hoping he can smooth the path for other young aboriginal people.
Clifford, 28, was called to the bar at Victoria Law Courts Thursday, in a special ceremony with traditional drumming and singing, as he became the first member of the four Saanich (WSANEC) Tribes to become a lawyer.
Given the need for lawyers in First Nations communities, where knowledge of traditional legal principles and modern law is essential in everything from treaty negotiations to fishing disputes, it is surprising there are not more aboriginal lawyers, said Clifford, a member of Tsawout First Nation.
"A lot of people helped me get where I am- I would definitely like to provide any guidance I can to students interested in this area," said Clifford, who is working with the law firm Devlin Gailus, but returning to the University of Victoria this fall to take his masters of law.
The key is to persuade young people they can do it, Clifford said.
"I always feel I am capable of doing whatever I set my mind to. My family always made me think I was capable."
Clifford grew up in Sidney with parents Ray and Rebecca, and was one of only two aboriginal students to graduate that year from Parkland Secondary School.
He spent much of his time with family on Tsawout reserve and was immersed in tradition by his grandfather Earl Claxton, one of the few fluent speakers of Sencoten, the language formerly spoken by First Nations on southern Vancouver Island.
Claxton died last year, but his inspiration continues, Clifford said.
"He is one of the reasons I chose to go back and do my masters degree."
Clifford plans to explore how indigenous legal traditions can contribute to environmental law.
"Increasingly, I have become more proud and more comfortable with being First Nations," he said.
Clifford attended Camosun College, before doing an undergraduate degree at the University of Victoria and then continuing to law school there.
It can be strange and overwhelming, especially for First Nations people coming from isolated reserves, and, combined with the work load in law school, things can become overwhelming, Clifford said. "And sometimes the subject matter is dealing with a system that didn't always treat aboriginal people fairly."
But education is one way of starting to solve some of the problems on reserves, said Clifford, who recommends aboriginal students look into the growing number of scholarships.
Robert Morales, the chief negotiator for the
Hul'qumi'num Treaty Group, a member of Cowichan Tribes, was one of only a handful of First Nations to graduate from Law School in 1986.
"It can be pretty daunting when you come from an environment where it's not an expectation. I grew up in a home where we didn't have any books."
More mentoring of young people is needed, said Morales, whose daughter is now a law professor at the University of Ottawa.
"There's a recognition by law schools that they don't have enough aboriginal students and a recognition by the Law Society that we don't have enough aboriginal lawyers and definitely a recognition that we don't have enough aboriginal judges," he said.
Tsawout Chief Harvey Underwood is delighted with the model Clifford is providing aboriginal youth.
"I see our Saanich people rising to leadership slowly, but surely," he said.
"Lawyers are needed in all First Nations communities. They can really help with governance."
jlavoie@timescolonist.com
We thought you might also be interested in..
Notice
: Undefined index: event in
/home/viccity/public_html/v2/content.php
on line
67