Jack Knox: With his grandfather's ashes, Sean rides on
Jul 27 2012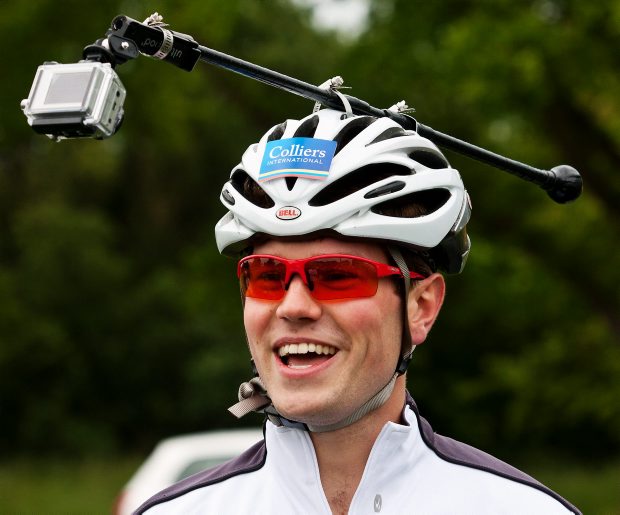 Sean Jacklin resumes his solo cross-Canada bike journey today, raising funds for Victoria Hospice.
Photograph by:
Darren Stone , timescolonist.com (June 2012)
When Sean Jacklin resumes his cross-Canada bike journey today, it will be with a heavy heart, a vial of his grandfather's ashes - and a deeper appreciation of the cause for which he is riding.
Jacklin, you might recall, left Victoria June 5 on a solo trip known as the Cycle of Life Tour.
It was a fundraiser for Victoria Hospice, a worthy beneficiary, but frankly one that the 21-year-old Stelly's grad didn't choose so much as inherit from his friend Graham Robertson, who rode the first version of the event last year. When you're young, strong and immortal, end-of-life care isn't the first cause that leaps to mind.
So, yes, Jacklin understands the irony of rushing back to a Vancouver Island hospice last week to be at his grandfather's side as he slipped away.
Ralph Anderson, a funloving retired pulp mill worker, had been recovering from a triple bypass in November, but the 83-year-old didn't seem in imminent danger when Jacklin pedalled off from Mile Zero.
Jacklin was making good time, had 4,500 kilometres under his tires and was just pulling out of Toronto last Tuesday when his mother called with the news that Anderson was failing.
"It was quite sudden," Jacklin says. He's thankful to the Victoria office of Collier's International, his main sponsor, for flying him home. Jacklin and his aunt were at his grandfather's bedside when Anderson died in the Campbell River hospice at 3 a.m. a week ago today. "I'm just so grateful that I got to come back and see him."
"My grandpa was a huge fan of what I was doing," Jacklin says. "I told him that I would get back on my bike and finish my fundraising. I know that he heard me and that he was proud and happy."
So, after flying to Toronto Thursday, it's back in the saddle today for the final 2,500 kilometres of his journey - Ottawa, Montreal, all the way to St. John's - his commitment now fortified by unexpected firsthand experience of the compassionate care found in hospices.
Jacklin had already faced a stark reminder of the fragility of life at one point on his trip, being among the first on the scene of a gruesome head-on collision near Thunder Bay, Ont. He did what he could, but one of the victims, a woman, later died.
The incident made him question his own vulnerability. If a car could cross the centre line, it could also veer onto the six-inch shoulders of the northern Ontario highways. "It opened my eyes to the danger."
That was the low point. The high moments? The view from the top of the mountain passes. "It's just that much more beautiful when you work for it." Ripping across the Prairies was fun; on one remarkable day, a tailwind helped push him 350 kilometres from Regina to Brandon, Man.
Then there are the people who have helped: the Kamloops pharmacist who wouldn't let him pay for the drugs to treat a lung infection, the massage therapist who not only refused payment, but gave him a $20 donation. Three cars pulled over to form a wall that allowed him to safely pass a refusing-to-budge black bear in the Rogers Pass. People from the Colliers offices and hospices at which he has stopped have opened their homes. He has only had to camp out half the time (including the night when the mosquitoes found him in an abandoned Ontario campground: "I was the only fresh meat").
His goal is $50,000 in donations; about $15,000 has come in so far. It's less easy to measure how he has raised public awareness of the cause, though circumstance has ensured his own perception is more acute.
No one thought Anderson would die in hospice while his grandson was on a hospice fundraiser. "What are the chances, right?"
Jacklin hopes to reach St. John's in mid-August, in plenty of time to fly back for classes at UVic this fall. But before coming home, he'll pour some of his grandfather's ashes in the Atlantic.
To learn more, go to cycleoflifetour.ca.
jknox@timescolonist.com
We thought you might also be interested in..