After one night and two crashes, police warning of impaired driving
Jul 27 2012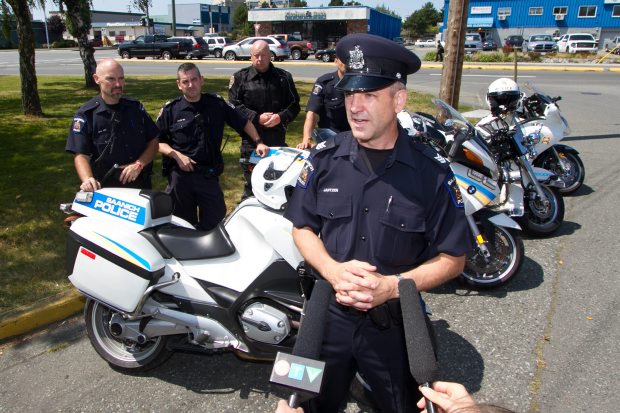 Saanich Police Sgt. Dean Janzten talks about the dangers of drinking and driving. Janzten says "many of our positive results have stemmed from calls from the public."
Photograph by:
Darren Stone , timescolonist.com (July 2012)
After two overnight crashes involving impaired driving, Saanich and Victoria police on Thursday stressed the dangers of drinking and driving.
"Despite the fact that the province is leading the way with the toughest anti-drink and driving rules in the country, people still seem to think it's socially responsible - it's not," said Victoria Const. Andy Dunstan.
The first crash occurred at 10 p.m. Wednesday when a car failed to make a turn from Selkirk Avenue onto Coventry Avenue and crashed into two parked cars.
Police were told by witnesses that the male driver and a male passenger fled the scene, leaving two female passengers in the car. A nearby resident had to jump into the car and put it in park after it started to roll down the street.
Police believe an 18-year-old Saanich man was driving.
The car, an older model Lincoln sedan, had been reported by a resident as a possible drunk driver to police earlier in the evening.
The public gives valuable help in catching impaired drivers, said Saanich police spokesman Sgt. Dean Janzten.
"I see from our staff that many, many of our positive results have stemmed from calls from the public," he said. "We know that our best resource out there are those people out on the road watching."
About 2: 40 a.m. Thursday, police responded to reports of a crash in the 500 block of Burnside Road, where a Nissan Maxima had crashed into a hydro pole.
Police say two women were seen leaving the scene. A dog unit located the women, who were found near Douglas Street and Frances Avenue.
A 25-year-old Saanich woman blew a fail and was issued a 30-day driving prohibition and a ticket for leaving the scene of a collision. The vehicle was towed.
Sgt. Graeme LeBlanc said the Integrated Road Safety Unit has investigated 40 impaired driving cases since July 1. "What's disturbing to us, we're seeing a resurgence of daytime and evening impaired driving," LeBlanc said.
Police are seeing impaired drivers from two groups: men between 18 and 28, and men and women between 40 and 60.
"Every night, we can guarantee that we will be taking impaired drivers off the road and we shouldn't be able to do that," Dunstan said.
mkaralis@timescolonist.com
We thought you might also be interested in..