Tajikistan fighting strands Victoria adventure cyclists
Jul 27 2012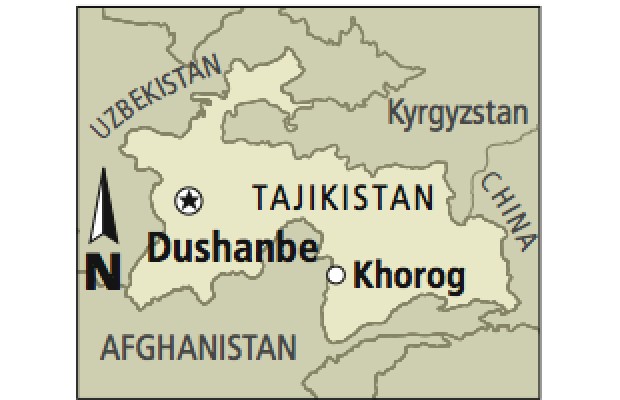 Tajikistan
Two Victoria men are getting a little more adventure than they bargained for now that their cycling expedition across Asia has been halted by an explosion of street fighting in Khorog, Tajikistan.
Chris Wille and Ross Thomson are among 30 people cycling or driving support vehicles in a 129-day expedition following the historic Silk Route 12,000 kilometres from Shanghai, China, to Istanbul, Turkey.
The group, which includes cyclists from all over the world, rolled into Khorog, on the Afghan border, on Saturday, about the same time as the regional head of the State Committee of National Security was killed by rebel fighters.
The death led to government soldiers clashing with rebels. On Tuesday, 12 soldiers and 30 rebels were killed by gunfire.
Henry Gold, owner of Tour d'Afrique, a Torontobased business that organizes "adventure cycling" excursions, said the group was fine and awaiting rescue by a convoy organized by the U.S. and German embassies.
The group had been staying in four different hotels and when fighting broke out, it was difficult to reach everyone, said Gold.
"There's been a lot of confusion," he said. "When the whole thing started, our staff was seven kilometres out of town. We had a very difficult time because communication broke down."
Everyone has been moved to hotels on the edge of town "so if the convoy vehicles make it, they'll get in those vehicles and start getting to the capital city" of Dushanbe, Gold said.
It's unclear whether the tour, which was near its halfway point, would continue.
"Everybody's got a bicycle and everybody's got luggage in three vans," Gold said.
"The vans may or may not be able to join the convoy because this is a diplomatic convoy."
Even if the tour does continue, participants may decide not to carry on.
People react to stress in various ways, said Gold, who survived an elephant attack while cycling in Africa.
"I've seen some very tough people fall apart very quickly and some others come through like you wouldn't expect - it's hard to know."
Cyclists were encouraged to get insurance to cover trip interruptions, Gold said. The fee for the entire route is $14,750 Cdn.
Thomson is a retired forester participating his fourth long bike tour. Wille is a four-time Ironman competitor who has cycled Africa from north to south and aspires to cycle around the world.
In a pre-race interview posted online, Wille said he was looking forward to getting out of his comfort zone.
"You have to embrace the challenge and embrace the experience of being in a completely different culture. If you can do that, it's magical," he said.
"People who throw away their preconceptions and jump on a tour like this find that it can really enrich their life."
smcculloch@timescolonist.com
We thought you might also be interested in..
Notice
: Undefined index: event in
/home/viccity/public_html/v2/content.php
on line
67