Man charged with dangerous driving
Jul 27 2012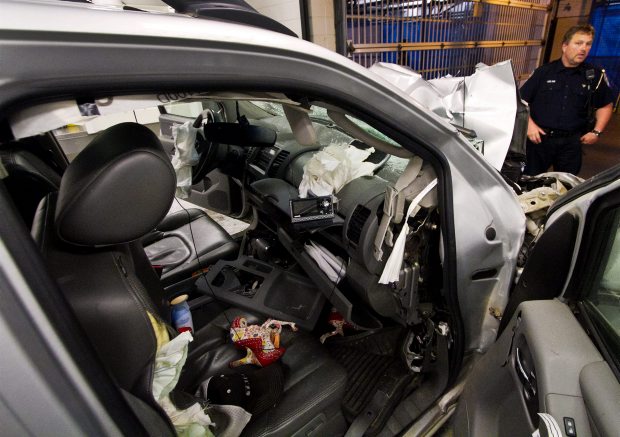 Victoria Police const. Neil Lundin shows a Nissan pick-up truck that crashed into a tree in the 1700-block of Rocklands Avenue.
Photograph by:
Darren Stone , timescolonist.com (July 2012)
An Edmonton man who allegedly crashed his truck into a tree on Rockland Avenue and left an injured woman pinned in the vehicle has been released on $2,000 cash bail.
Joshua Thomas Rieger, 20, has been charged with dangerous driving causing bodily harm, impaired driving causing harm and failing to stop at the scene of an accident.
Rieger did not appear in court on Thursday. He was released with the consent of Crown and defence. Rieger is to appear in Victoria provincial court on Aug. 16.
Rieger's lawyer, Jeremy Carr, said the young woman is a friend of his client. She suffered a broken pelvis, ankle and femur, and was in surgery Thursday afternoon.
According to Victoria police, the driver of a pickup crashed into a tree in the 1700 block of Rockland Avenue on Wednesday at 2 a.m. The driver fled, leaving an 18-year-old woman in the truck screaming in pain.
Neighbours called 911 and rushed to the woman's aid, police said.
Victoria firefighters and paramedics helped to remove the woman from the truck.
Police estimated the vehicle was travelling between 70 and 80 kilometres an hour on a corner where the speed limit is 30 kilometres an hour.
The truck hopped a curb on the right-hand side, hitting the tree with such force that it crushed the engine compartment and sent its hood emblem hurtling 24 metres. Police believe the driver did not use the brakes.
A dog unit searched for two hours and found a man in bushes near St. Charles Street and Warren Gardens.
We thought you might also be interested in..