Court dismisses Ruffolo's appeal of her conviction for the first-degree murder of her husband
Jul 28 2012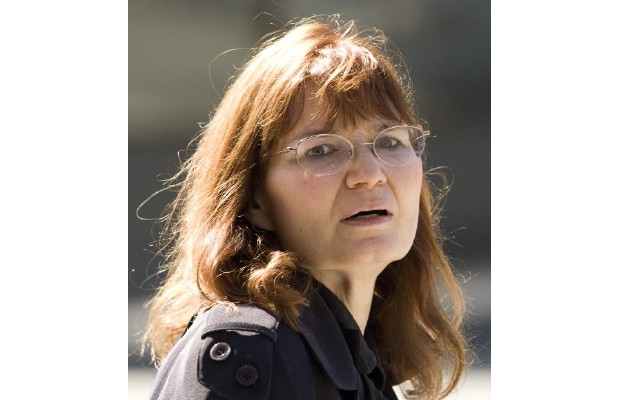 The B.C. Court of Appeal announced its decision today for Ruby Ann Ruffolo's appeal of her conviction for the first-degree murder of her husband.
Photograph by:
Times Colonist File Photo , timescolonist.com (July 2012)
Ruby Ann Ruffolo has lost her appeal of her conviction for the first-degree murder of her husband.
On Friday, three judges of the B.C. Court of Appeal unanimously dismissed Ruffolo's bid for a new trial.
B.C. Supreme Court Justice Mary Humphries convicted Ruffolo on Nov. 18, 2010, of the October 2003 murder of her husband, John Ruffolo. Humphries accepted the Crown's theory that Ruffolo sedated her husband with amitriptyline, then injected him with a lethal dose of heroin, later leaving his body in a ditch in Langford.
Ruffolo, 56, was sentenced to life in prison with no possibility of parole for 25 years. She is serving her sentence at the Fraser Valley Institute for Women.
On Friday, John's mother, Lois Ruffolo, said she felt relief.
"He can never come back, but at least he can rest peacefully knowing that his family's hell has finally come to an end," Lois said.
"I will never understand why this nightmare took nine years to conclude. But I am grateful to Justice Humphries, whose thoroughness ensured that we will not have to endure a second trial. I cannot imagine going through that again.
"We can now get on with our lives. My son would have celebrated his 45th birthday next month. I now hope that the justice system enforces the sentence.
Twenty-five years is not enough. My son's sentence will never be shortened."
Ruffolo appealed her conviction in December 2010. The appeal was heard in the B.C. Court of Appeal in Vancouver in June.
Lawyer Howard Rubin, who represented Ruffolo during the appeal, has retired and is no longer representing her. On Friday, Rubin said he had not yet talked to Ruffolo and could not say whether she planned another appeal.
"That's going to be her decision entirely," Rubin said.
Ruffolo appealed her conviction on the grounds that the trial was procedurally unfair and resulted in a miscarriage of justice because of its "fractured nature." The trial began before judge and jury on March 3, 2009, and proceeded sporadically because her defence lawyer, David Lyon, was ill.
On Nov. 5, 2009, Humphries declared a mistrial. Ruffolo elected to be tried by judge alone on March 29, 2010, and the retrial took place in June and July.
Ruffolo argued that Lyon provided ineffective assistance by not seeking a mistrial as early as he should have. She said the trial judge erred by not declaring a mistrial by her own motion. She argued that she felt compelled, against her will, to agree to a judge-alone trial.
The appeal court did not accept Ruffolo's arguments.
Ruffolo also appealed on the ground that Greg DelBigio, her lead counsel in the second trial, was ineffective because he failed to ask her daughter, Jovanna Ruffolo, where she was on the evening John died and did not take instructions on this issue.
Ruffolo said if Jovanna had been asked, she would have said she was at home. This evidence, Ruffolo argued, could have raised a reasonable doubt about the testimony of the three key Crown witnesses.
Ruffolo's appeal was also based on the grounds that Lyon failed to effectively cross-examine the key witnesses. She also said Humphries conducted proceedings when she was absent from the court room.
The court found no evidence that DelBigio or Lyon were ineffective. The court found that new evidence in affidavits by Ruffolo and Jovanna were "not reasonably capable of belief."
The court found no evidence Ruffolo was not present in court during proceedings.
ldickson@timescolonist.com
We thought you might also be interested in..