Four tiny fledglings signal revival of Western bluebirds
Jul 28 2012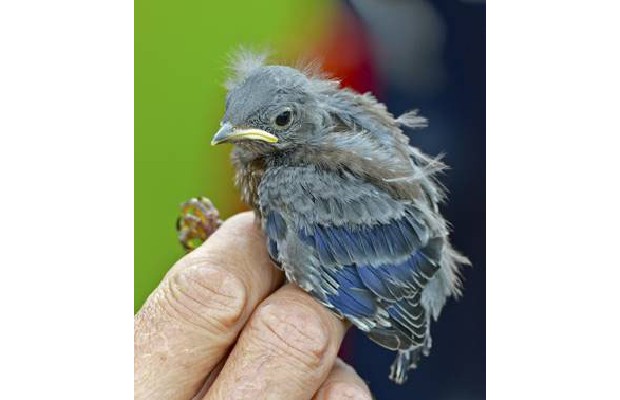 Bands are fixed to the legs of the first Western bluebirds to hatch on Vancouver Island since 1995.
Photograph by:
Submitted photo , Bill Pennell
They're a little rumpled and spiky, but undeniably blue.
For the first time in almost two decades, four tiny Western bluebirds have hatched in a nest box at the Cowichan Garry Oak Preserve near Duncan, and members of the Bring Back the Bluebirds project are ecstatic.
"It's very exciting. It's a rare environmental and conservation success story," said Rebecca Mersereau, executive director of the Garry Oak Ecosystems Recovery Team, the umbrella group for the bluebird reintroduction.
Western bluebirds thrived on Vancouver Island until the 1950s, when their numbers started to decline, and they have not nested successfully on the Island since 1995, meaning they were considered locally extinct.
That is something the bluebird team hopes to reverse, and this spring - the first year of a five-year project - four pairs of Western bluebirds were brought to the Cowichan Valley from a healthy bluebird population in Washington.
Two pairs had not yet bred and the other two pairs were brought with nestlings.
The newly hatched nestlings are from a pair which had already produced young, and the Washington-born fledglings are frequently seen near their parents' nest box.
"We're unsure of the whereabouts of two of the pairs, but there have been sightings around the larger Cowichan Valley area," Mersereau said.
The other pair brought to the Island with young are around the Garry Oak preserve area, but so far are showing no inclination to build a new nest and produce eggs.
"It is getting late, as we expect them to be heading further south in late September," Mersereau said.
It is hoped the birds that were born on the Island will return to the same area, and biologists and bird enthusiasts will be watching to see whether the parents and transplanted young birds will also return to Vancouver Island.
For now, the parents are busy collecting food for their hungry offspring, and team staff and volunteers are supplementing their diet.
"We want to make sure they like it here and they'll come back. There's a lot invested in this project," Mersereau said.
The young birds already have four bands on their legs to ensure they can be tracked.
"Every bird, whether a nestling or translocated adult, receives a unique colour combination of four bands," said Gary Slater, project translocation co-ordinator.
"The unique combination of colours given to each bird allows us to monitor and track its movements, survival and reproduction," he said.
That information will help evaluate whether the program is successful.
It is hoped six to eight pairs will be brought to Vancouver Island in subsequent years, Mersereau said.
"We hope we will reach the point where we have a self-sustaining population."
jlavoie@timescolonist.com
We thought you might also be interested in..
Notice
: Undefined index: event in
/home/viccity/public_html/v2/content.php
on line
67