Need grows, but beds stand empty
Jul 29 2012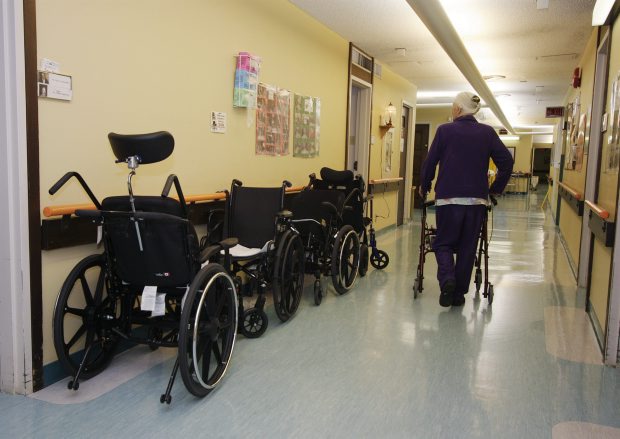 Storage is a problem at Oak Bay Lodge, where equipment lines some hallways.
Photograph by:
Lyle Stafford , timescolonist.com (July 2012)
Seniors are increasingly being turned away from Oak Bay Lodge because the aging facility cannot support the needs of some elderly patients who require extensive complex care.
Problems include washrooms in the rooms that are not wheelchair-accessible and residents having to be moved out of their beds with manual lifts because proper chair lifts cannot be installed in the ceilings.
These limitations are just a couple on a list of deficiencies at Oak Bay Lodge, which health officials say is in desperate need of replacement in order to bring Greater Victoria's inventory of care facilities up to provincial standards.
"We're having more and more empty-bed days because the types of clients who need our care, we can't care for them," said May Sauder, administrator at Oak Bay Lodge. "They come with equipment that we can't accommodate."
The Vancouver Island Health Authority set out three years ago to replace Oak Bay Lodge and Mount Tolmie Hospital in Saanich, but that plan is at a standstill because residents and city council disapproved of the proposed redesign.
Several communities, including Victoria, Saanich, Colwood and Langford, have said they would welcome a facility in their municipalities, but the new site will depend on the best bid by service providers and the location they select.
The replacement in Oak Bay would have upgraded the existing 320 beds, encompassing that facility and Mount Tolmie, as well as upgrading 260 other beds at Central Care Home and Mount Edward Court, both in Victoria.
Had the original proposal gone through, construction would have started already, said VIHA officials. Instead, staff at Oak Bay Lodge do what they can to best serve their residents, but still have to turn people away.
STAFF COMPENSATE FOR SHORTCOMINGS
A walk through the facility illustrates the need to upgrade. Of the 247 residents, 204 are in double rooms, meaning very few people have private space. Staff have to regularly move beds around in the crowded rooms in order to wheel in the large lifts required to get residents out of their beds and to the washroom.
The procedure creates trepidation for the resident being moved and the physical labour has caused back injuries among staff members, Sauder said.
Every room has sliding glass doors that only open about two inches because balconies are falling apart and unsafe.
Storage is a problem. When not being used, chair lifts are stored in the already narrow hallways. Some sections of the halls are cluttered with stacked couches and chairs.
A staff member last week slowly walked beside a resident, who also had the assistance of a walker. They created a brief pedestrian traffic jam as they passed two lifts lined up against one wall.
"Our staff, in many ways, compensate as much as they can, but it's unfortunate because we'd love for them to be able to do it in a proper facility," Sauder said.
Oak Bay Lodge stands in stark contrast to Selkirk Place in Victoria, which opened in 2008.
The newer facility stands seven storeys and has 227 complex care beds in single-patient rooms. VIHA funds 185 of those complex care beds as well as 25 of the 41 assisted living units.
Proper chair lifts glide along ceiling tracks, carrying patients from their beds to the washrooms. A massive TV room comes with a large projector screen with surround sound. Common areas are everywhere and the dining rooms overlook Victoria's downtown.
A large salon is available in the building, next door to the exercise room, which has fitness equipment specific for seniors.
SHARED ROOMS ARE 'NOT HELPFUL'
The luxurious modern look provides a welcoming environment for residents, but the most valuable components are the single rooms.
"History tells us that the thing that is most important to people is the ability - to have privacy in their bedrooms," said Katelynn Gould, Selkirk executive director. "Sharing is not helpful, if you can avoid it, because at the end of the day you don't necessarily want to have a roommate that you didn't pick."
Part of the problem at Oak Bay Lodge rests with the building's original design. It was originally an executive retirement home built in 1972, targeting a demographic of seniors 65 and older. Some needed help with medications, but they were fairly independent and could walk up a flight of stairs, Sauder said.
The B.C. government bought the building in 1979 and operated it as an intermediate care facility, according to Norm Peters, VIHA's director of residential and contracted services.
Even before VIHA took over the building in 2004, the previous director of the lodge recommended replacing the aging facility. It was around that time that VIHA made the switch to complex care.
"It was viewed even at that time, that it would not support complex care," Sauder said.
Peters agreed, saying there was a need for more complex care beds at the time and government had to look at its older facilities to use what space they had.
"We've increased staffing levels, we've done things like put equipment in the building to help out, but it gets to a point where the staff and that kind of equipment can only go so far," he said.
The number of care beds in the region are sufficient, according to Peters, but outdated facilities must be replaced as soon as possible. In addition to the 580 upgrades in the last proposal, VIHA has plans to replace an additional 110 beds at a variety of sites, but specific details were not released.
That need makes Oak Bay council's decision a disappointing one, said Peters.
A COMMUNITY'S CONCERNS
Complaints about the redesign were outlined in a lengthy public process, with critics saying the proposed six-and five-storey buildings in the lodge's redesign would take away from the character of the community.
More specifically, those buildings would ruin people's views and cast shadows on nearby homes, said some.
A planning consultant's report prepared for Oak Bay council also criticized the extra storeys.
"The excessive height affects viewscapes, negatively affects the surrounding character of the community, and does not 'fit' with the surrounding neighbourhood," its authors concluded.
The height "appears contrived from a 'business model' rather than from community character and context."
VIHA officials were surprised by the decision, saying the additional two storeys - the current building is four storeys - would not have had much impact on the surrounding neighbourhood of single-family homes.
Oak Bay is not opposed to high-density seniors-care facilities, said Mayor Nils Jensen, who suggests VIHA should have worked with the community to ensure a proper facility would be approved.
While both sides blame each other for the failure of the project, VIHA officials have given up on a replacement at the current Oak Bay Lodge site and plan to take their project to any community in Greater Victoria - wherever they are welcome.
The process has been frustrating for staff at the facility as health authority officials are no further ahead than they were in October 2009 when they first started with replacement plans. VIHA hopes to have a new tender out in the coming months and will start all over again.
dspalding@timescolonist.com
We thought you might also be interested in..