Down on the farm, a different approach
Jul 29 2012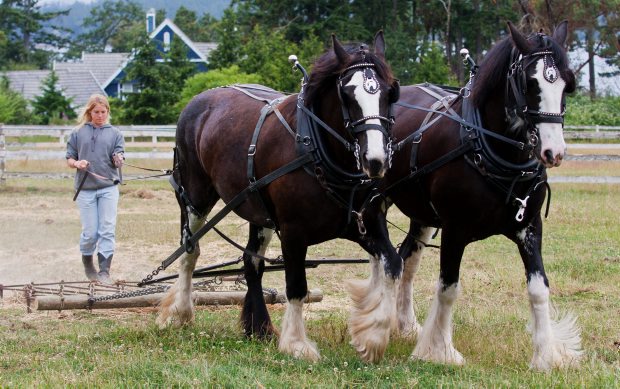 Connie Wylie harrows a field with Clydesdale mares Quinn and Tagen at White House Stables on West Saanich Road. Her parents have put in 28 years of hard work on the farm.
Photograph by:
Darren Stone , timescolonist.com (July 2012)
A bucolic scene greets those travelling down the driveway at White House Stables on West Saanich Road.
A matched pair of black and white Clydesdale mares graze in a field, Sarah the pig rests in the heat, a kitten scampers about, large white dogs doze in the sun and thoroughbred mares who produce race horses are having their feet trimmed.
The picture is rounded out by chickens, geese, ducks, turkeys, an apple orchard and a garden filled with organic lettuce, berries, potatoes and more. A small shop inside the horse barn sells livestock feed and equipment.
It is just kilometres away from downtown Victoria, but the contrast between designer shops and country living is marked.
"We love what we do," said 54-year-old farmer Nicky Wylie. "We like being busy."
As picturesque as all this is, Nicky and Norman Wylie's rented property has demanded 28 years of long hours, hard work in often poor weather, living with a variable income and a big dose of cheerful self-reliance.
"We couldn't do what we do here if we didn't do everything ourselves," Nicky said. "We have an attitude of not expecting people to do things for us. Nothing is handed to you on a plate."
Despite its demands, Nicky calls the farm "paradise."
She credited Norman with taking on so many jobs. "He's the man of all trades."
Norman said farm life works for him because it offers a chance to be creative in the way things are done. It's a chance to reinvent yourself every day, he said.
It's clearly about attitude. "We try not to make anything drudgery," Norman said.
And although there always are young creatures around, Nicky said that owning livestock means dealing with the loss. Good animal husbandry is essential. "You are successful with the animals if you can make them happy," she said.
They are happy with a frugal life. "One of the things about living the way we live, is we don't need a lot of money. You need enough to live on," Nicky said. "We don't eat out. We don't watch TV. We take a holiday every two years."
Getting away from the farm is difficult because it is costly to pay people to manage it, Nicky said.
She is especially proud of the success of the racehorses raised on the farm.
The couple believes in creating a sustainable farm and, in that vein, the Clydesdales are used to harrow fields.
Children Constance, 20, and Stuart, 18, are home from university this summer. Constance was in France and Stuart in Kingston, Ont. Their mother said, "You've got to step away from things to see what you've got."
Breakfasts surrounded by family and friends all enjoying food from the farm are favourite occasions for Nicky. "What value do you put on that?" she said. "It's brilliant. You can't ask for much more than that."
cjwilson@timescolonist.com
We thought you might also be interested in..