Top 10 Olympic events featuring Island athletes
Jul 29 2012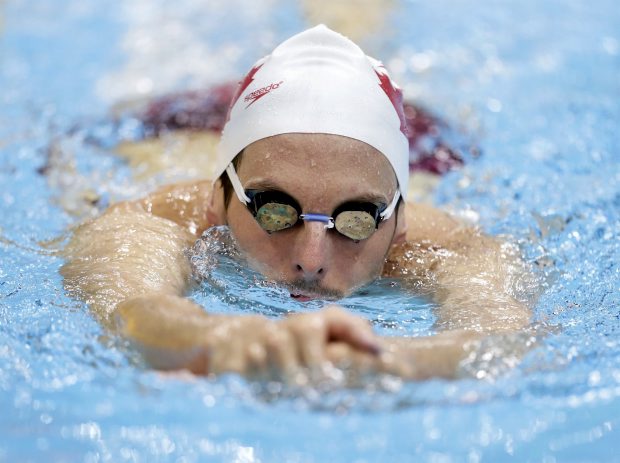 Victoria swimmer Ryan Cochrane trains at the Aquatic Centre in London's Olympic Village.
Photograph by:
Tim Wimborne , Reuters
The first week of the 2012 Summer Olympics has begun with 48 competitors from or based on the Island as part of the Canadian team. Here are the top-10 Olympic events featuring Island athletes to look for over the next fortnight in London:
1 Men's 1,500-metre freestyle swimming: Ryan Cochrane of Victoria was the budding boy wonder when he captured bronze at the 2008 Beijing Olympics as a 19-year-old. Since then, he has won a silver medal at the world championships and a gold at the Commonwealth Games. And he is in London looking for more, although his Games began with disappointment Saturday in the 400 free, his minor event. And in the way of the golden dream in the 1,500 is the favourite and world record holder Sun Yang of China. (Prelims: Aug. 3 at 2 a.m.; Final: Aug. 4 at 11: 30 a.m., London Aquatics Centre).
2 Men's rowing eight: The Elk Lake-based crew, the defending Olympic champion boat that looked as if it had managed a successful near-complete makeover following six retirements from the golden Beijing crew, got off to a disastrous start in London on Saturday. Returning coxswain Brian Price and pullers Malcolm Howard and Andrew Byrnes will need to rally the six newcomers - Gabe Bergen, Jerry Brown, Will Crothers, Doug Csima, Rob Gibson and Conlin McCabe - and regroup through the repechage in order to reach the final. (Repechage: July 30 at 1: 50 a.m.; Final: Aug. 1 at 4: 30 a.m., Dorney Lake, Eton).
3 Men's triathlon: Simon Whitfield of Victoria says he knows how to compartmentalize and will quickly put his Canadian opening-ceremony flagbearer honour in the rearview mirror and begin preparing for race day. But at age 37, is there enough left in the tank for a third career Olympic medal? (Final: Aug. 7 at 3: 30 a.m., Hyde Park).
4 Men's rowing pair: After silver at the 2008 Beijing Summer Games for David Calder of Victoria and Brentwood Collegegrad Scott Frandsen, there is only one more step up the podium for this veteran duo, which won its opening race at London on Saturday. The favoured New Zealand crew is undefeated in three years and stands in the way of a dream career ending for the Canadian pair. (Semifinals: Aug. 1 at 3 a.m.; Final: Aug. 3 at 3: 50 a.m., Dorney Lake, Eton).
5 Women's team pursuit cycling: Just last summer when former road racer Gillian Carleton of Victoria took to the track for the first time at the just re-opened Juan de Fuca Commonwealth Games velodrome, she couldn't have imagined herself in London. Neither could the St. Margaret's grad have imagined it just last November, sitting in Kazakhstan with a broken pelvis following a crash in a World Cup track race. But her recovery went remarkably well and the Canadian team pursuit trio of Carleton, Edmonton's Tara Whitten and Coquitlam's Jasmin Glaesser went on to win the bronze medal in April at the world track cycling championships in Melbourne. Earlier this year, the Canadian trio won silver behind Britain in the official test event for the 2012 Summer Games held on London's Olympic velodrome. They are now back looking for a medal when it counts, and appear good enough to get it. (Qualifying: Aug. 3 at 9 a.m.; Second round: Aug. 4 at 8: 11 a.m.; Final: Aug. 4 at 9: 42 a.m., all at the Olympic Velodrome).
6 Women's lightweight doubles rowing: How many more twists can this story take? Lindsay Jennerich of Victoria and Tracy Cameron of Nova Scotia won gold at the 2010 world championships. But with Cameron injured at the 2011 worlds, super sub Patricia Obee of Victoria filled in to win silver with Jennerich. But Cameron beat Obee in a row-off this spring on Elk Lake for the second seat in the double behind Claremont-grad Jennerich for the Olympics. But citing a lack of chemistry, Cameron abruptly quit the boat several weeks before the Games. Again, enter the 20year-old Stelly's grad Obee as sub. Despite the drama, the Jennerich-Obee combo is good enough to medal at London and should. (First round: July 29 at 2: 40 a.m.; Repechage: July 31 at 2: 10 a.m.; Semifinals: Aug. 2 at 2: 30 a.m.; Final: Aug. 4 at 3: 50 a.m., Dorney Lake, Eton).
7 Women's triathlon: Victoria-based Paula Findlay looked unbeatable as the world No. 1 in 2011 before a bothersome labral tear in her hip ripped apart her season - and maybe, it seemed, even her Olympic dreams. But she appears to have recovered well after the long forced layoff. Yet having not raced since last year, the big question is how will she react on the day in Hyde Park? This is one of the intriguing questions of the Games. (Final: Aug. 4 at 1 a.m., Hyde Park).
8 Men's cycling time trial: Ryder Hesjedal got caught up in the pack Saturday in the men's road race at London and couldn't make a move. But the time trial could be another story. The Victoria cyclist, with his gangly limbs and raw pedalling power, is an able time trialer and more than capable of showing it on the day at the Olympics. (Aug. 1 at 6: 15 a.m., Hampton Court Palace).
9 Men's Star-class sailing: In his fifth Olympics, Richard Clarke of Saltspring Island and the Royal Victoria Yacht Club is the most seasoned of the Islanders at the London Games. He says he has seawater in his veins. And he may just be due at the Games. Clarke and partner Tyler Bjorn of Montreal are capable of pulling off a podium finish and giving Canada its first Star-class Olympic medal since Eric Jersperson of Sidney and Ross MacDonald of Vancouver won bronze at the 1992 Barcelona Summer Games. (Races 1-10 from July 29 to Aug. 3; Medal Race: Aug. 5 at 5 a.m., Weymouth National Sailing Academy).
10 Men's 10K open water swim: Richard Weinberger of Victoria is emerging quickly through the waves, having won the official Olympic test event last year in London and gold at the 2011 Pan American Games in Guadalajara, Mexico, before rallying from 49th place to finish second in the Olympic qualifying race in June at Portugal. He returns to the Serpentine in Hyde Park for the first time since scoring the Olympic test event victory last summer. But this summer, it's for real. And the opportunity for Weinberger to prove he's for real. (Final: Aug. 10 at 4 a.m., The Serpentine, Hyde Park).
cdheensaw@timescolonist.com
We thought you might also be interested in..