Wild riders face police crackdown
Aug 02 2012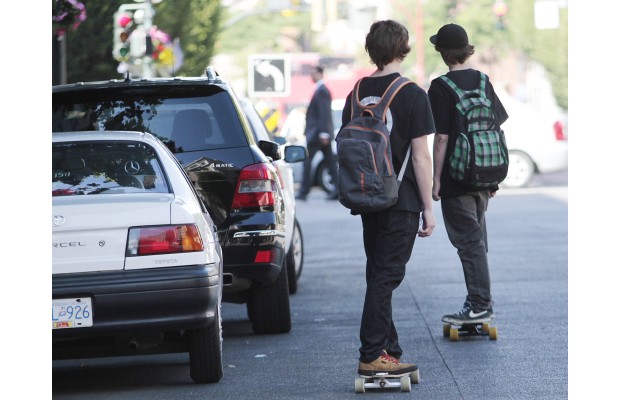 Skateboards roll along Government Street on Wednesday.
Photograph by:
Lyle Stafford , timescolonist.com (August 2012)
Skateboarders and inline skaters ripping through downtown and cyclists riding on sidewalks will be getting extra attention this month as Victoria police crack down on the dangerous behaviour.
The campaign comes in response to a July 10 incident in which a Coquitlam couple was knocked over by a skateboarder near View and Douglas streets. A 57-year-old woman suffered serious facial injuries and her husband dislocated his shoulder.
Const. Rob Horne, who investigated the incident, was at Government Street near Bastion Square Wednesday to talk to the media about the enforcement campaign being carried out by VicPD and City of Victoria bylaw officer.
Before he could begin, two cyclists rode by on the sidewalk and Horne physically stopped a skateboarder weaving through tourists.
Human-powered vehicles - skateboards, in-line skates, roller skates and push scooters - are not allowed on streets or sidewalks in the area between Herald and North Park streets to Belleville and Blanshard streets, and Wharf and Store streets to Quadra Street.
Horne said officers typically stop 10 to 15 people breaking the bylaws each day.
"It's definitely something the department gets a lot of complaints about," he said.
The fines are $75 for skating or skateboarding downtown, $109 for cycling on a sidewalk and $29 for riding without a helmet.
Bylaw officers have been handing out maps of the no-go zone and telling people about the rules since May.
kderosa@timescolonist.com
We thought you might also be interested in..
Notice
: Undefined index: event in
/home/viccity/public_html/v2/content.php
on line
67