Senior sailor seeks record with non-stop solo voyage
Aug 02 2012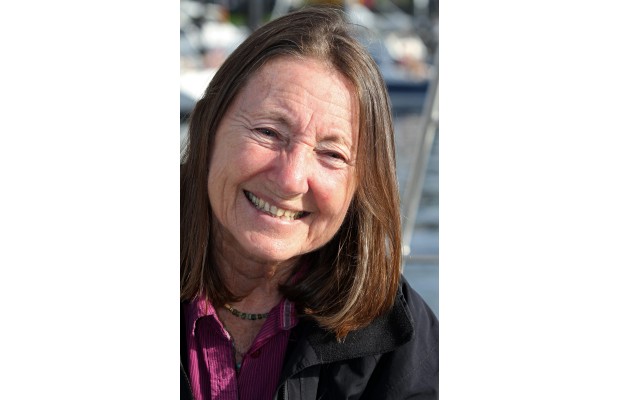 Jeanne Socrates will set off in October on her fourth non-stop solo circumnavigation attempt.
Photograph by:
Bruce Stotesbury , timescolonist.com (August 2012)
Jeanne Socrates arrived back in Victoria on Wednesday evening, 22 months after she left on an attempt to circumnavigate the globe single-handed and non-stop.
"I feel fantastic - I had a fantastic sail," said a tanned and smiling Socrates, a 69-year-old grandmother and British national, as she sat dockside at Ship Point in the Inner Harbour.
Her first wish, once she had Customs' OK to come ashore, was "to have a very nice, fresh lettuce salad."
The trip was Socrates's third non-stop solo circumnavigation attempt. While she has gone around the world, she hasn't been able to do so without making stops.
From March 2007 to June 2008, she ran aground 60 nautical miles short of her starting point.
In October 2009, she left the Canary Islands but had to dock in Cape Town, South Africa, to replace an engine.
On her most recent attempt, things once again did not go as planned.
Socrates sailed out of Victoria in late October 2010. She ran into trouble on Jan. 5, 2011, when her 38-foot sailboat, Nereida, was damaged when stormy seas off Cape Horn knocked it over and broke the boom.
Socrates was in the head - the ship's toilet - when the boat went over.
"I was so lucky," she said. "I had my back to the wall when we went over. It was just so unexpected. It took me a moment to realize what had happened."
She limped to port in Argentina for repairs. Further work was done in South Africa.
Socrates will leave Victoria on her fourth attempt in October.
She isn't just trying to find a spot in the record books as the oldest woman to have sailed around the world via the southern oceans. She's also trying to raise money for the Marie Curie Cancer Care, a British charity that supplies nurses free of charge to the terminally ill.
Socrates, a retired schoolteacher, learned to sail in 1994 when she was 51. She and her husband, James, took a five-day sailing course and planned to spend many years at sea.
But in 2003, James died of cancer. A year later, Jeanne sailed by herself across the Atlantic to attend a sailing event here.
Socrates will begin her next solo non-stop circumnavigation try in October.
The next couple of months will keep her busy as she prepares for the trip.
One adjustment she will make is packing more dehydrated food on board.
Because the non-stop nature of her trip means she she can't stop in port, she has to carry enough for the seven-month voyage.
This will be her last attempt at circling the globe single-handed and non-stop, she said.
"If it doesn't work out, it clearly wasn't meant to be, and I'll go back to relaxed cruising in company with friends."
smcculloch@timescolonist.com
We thought you might also be interested in..
Notice
: Undefined index: event in
/home/viccity/public_html/v2/content.php
on line
67