You're invited to today's Splash and Monday's City United!
Aug 05 2012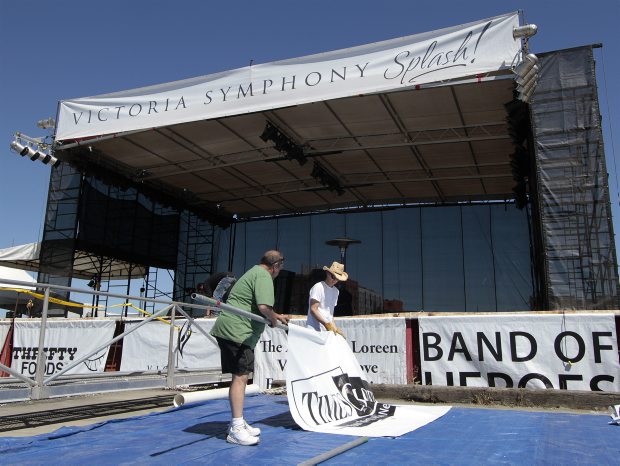 Frank Flewellyn, left, and Tom Fijal help with signs for the Symphony Splash concert, starting at 7:30 p.m.
Photograph by:
Lyle Stafford , timescolonist.com (August 2012)
Soak up the sun during the B.C. Day long weekend while enjoying live music during today's Symphony Splash and City United! on Monday.
As many as 40,000 music lovers will descend on the Inner Harbour for today's 23rd annual Symphony Splash, an evening of orchestral songs performed on a floating stage.
The event kicks off at 1 p.m. when the family zone opens, but things don't get musical until The Midnights take the stage at 4 p.m. The
orchestra performance starts at 7: 30, with the fireworks and cannon-punctuated finale at 10.
Chairs can be set up on the legislature lawn after 8 a.m. Any grandstand tickets will be for sale at the information and merchandise tent. An area for people with wheelchairs will be available after 4 p.m.
A concession area will be open from 3 to 10 p.m. There will also be a number of portable toilets on site. Admission to the event is by donation.
The music continues Monday at City United!, a free event celebrating the City of Victoria's 150th and the United Way's 75th anniversaries. St. Ann's Academy will host live music, crafts, cooking and gardening demonstrations starting at noon. Cameron Bandshell in Beacon Hill Park will host a free live concert featuring Jon & Roy and Digging Roots, starting at 7 p.m.
For more information, go to victoria.ca/cityunited.
- Times Colonist
CONCERT PROGRAM
O Canada
Stokes: Inner Harbour Overture
Dvorak: Slavonic Dance No. 1
Suppé: Overture to Poet and Peasant
Mendelssohn: Violin Concerto (1st movement) - Eehjoon Kwon, violin
Schifrin: Mission Impossible Theme Liszt: Hungarian Rhapsody No. 2
Intermission
Fucik: Entry of the Gladiators
Ka Nin Chan: Harmonious Interest (world première)
Coates: London Suite, Westminster, Knightsbridge March
Stokes: Canoe from Klee Wyck - Eve Daniell, soprano
Williams, arr. Lavender - Tribute to John Williams
Williams: Imperial March from Star Wars
Tchaikovsky: 1812 Overture
We thought you might also be interested in..
Notice
: Undefined index: event in
/home/viccity/public_html/v2/content.php
on line
67