Good neighbours: Victoria's Jamaicans celebrate independence
Aug 05 2012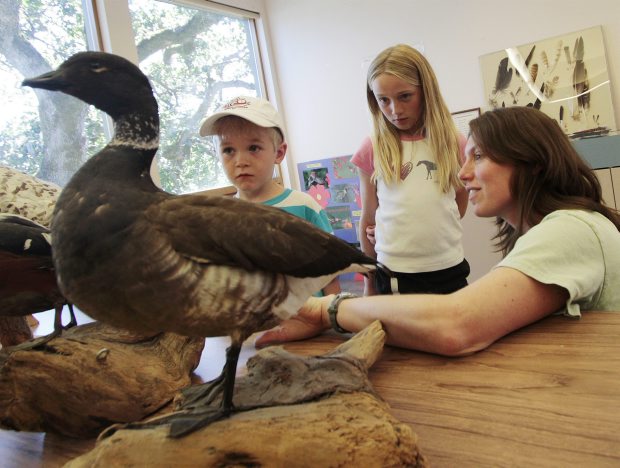 Renee Cenerini, left, with Rowen Closs-Riedel, 6, and Georgia Knight, 8 at a Birds of a Feather event at Swan Lake Nature House.
Photograph by:
Lyle Stafford , timescolonist.com (August 2012)
Victoria's Jamaican community has a double reason to celebrate Monday.
Not only is it B.C. Day, it is also time to laud the 50th anniversary of Jamaica's independence from Britain, which was finalized in August 1962. A number of other Canadian cities are also seeing Jamaican expatriates come together this month.
Here in Victoria, a few hundred people with Jamaican ties are believed to be living in the area, said Chris Foord, whose connections to Jamaica date back to 1741. His immediate family left Jamaica for Canada when he was four, but he still has relatives in the island nation.
"This is the first gettogether that I'm aware of for the Jamaican community in town," said Foord, a local transportation consultant.
"We estimate there's probably 200 to 300 people with Jamaican roots here, and I think there's probably about 4,000 in the province."
He said the 300 tickets for Monday's noon-3 p.m. independence event at Glo Europub have sold well.
Some may be available at the door.
Along with festivities inside the restaurant, Glo will be selling food to passers-by, Foord said.
"There's also going to be some outside tents and displays so people can have a look around and pick up some information on Jamaica."
Foord said Glo began getting into the spirit of the occasion last week by adding some Jamaican items to the regular menu.
GROUP TAKING CITY'S VITAL SIGNS
The Victoria Foundation is asking residents to help take the pulse of the community for a seventh year.
The occasion is the foundation's annual Victoria's Vital Signs survey, which seeks input on 12 critical areas to get a "snapshot" of the region's livability. Housing, the environment and - for the first time - sports/recreation are among the indicators that will be up for public assessment.
The results will be included in a regional "report card," complete with letter grades. It will be released on Oct. 2 along with similar reports from 12 other community foundations across the country.
A national report is also part of the package.
Victoria Foundation CEO Sandra Richardson said Vital Signs can be useful for non-profit organizations, civic leaders and donors looking to decide about grants and policy-making.
She said concerns raised in the surveys can lead to concrete measures, like the foundation's recent creation of a "physical literacy" program aimed at childhood obesity and dwindling levels of activity.
The 2012 survey can be taken until Aug. 12 and is available at victoriafoundation.ca. It is 17 pages long and takes about 25 minutes to complete.
A Youth Vital Signs survey will also be conducted in August using the responses of young people aged 15 to 24.
YOUTH PROGRAM GETS CASH BOOST
Youth leadership has been given a boost with a $20,000 donation by Coast Capital Savings.
The money is going to Volunteer Victoria and its Youth Volunteer Connections Program, which is expected to reach 1,500 young people this year. Participating youth will learn to focus on their interests and skills, and will be introduced to a wide array of volunteer opportunities at nearly 300 non-profit agencies around the region.
The skills they develop can help in entering the workforce or in simply gaining useful experience.
Those aged 15 to 29, as well as non-profit groups wanting to take part, can go to volunteervictoria.bc.ca or call 250-386-2269.
TINY AIRSHOW TAKING OFF
Victoria's Largest Little Airshow returns for an 11th year to highlight the wizardry of radio-controlled aircraft enthusiasts.
The event, staged by the Victoria Radio Controlled Modellers Society, is back after a one-year hiatus. It takes place next Saturday and Sunday at Michell Airpark on Lochside Drive, between Island and Martindale roads.
Since its inception, it has brought in more than $138,000 for two charities, the Saanich Peninsula Hospital Foundation and CFAX Santas Anonymous.
The show runs from 10 a.m. to 5 p.m. both days, and includes on-ground displays and a concession. Admission is by donation.
Organizer Mike Scholefield said participants are coming from California, Utah and Colorado, as well as the local area. Along with an impressive mix of turbine jets, helicopters and vintage planes will be the always-popular flying lawn mower and airborne appearances by Snoopy and the Red Baron.
TAKE A SWING FOR SENIORS LODGE
Golfers are lining up to "Take a Swing at the Superbug" at an August tournament in support of Beckley Farm Lodge.
That's the catchphrase for the fundraising event, which is being staged by the Beckley Farm Lodge Auxiliary to purchase a Medco equipment-washing machine for the 65-bed complex-care facility in James Bay. The device, valued at about $17,000, can lessen the spread of infection by sterilizing items such as wheelchairs, walkers and commodes used by residents and day-program clients.
The machine could also be used to help seniors in the community.
The tournament takes place at Prospect Lake Golf Course, with a shotgun start at 3 p.m.
Cost is $75 per player, which includes a registration gift and contests. A limited number of $35 dinneronly tickets will be available.
Prospective players and anyone interested in donating prizes are asked to call 250-592-1604 or email skinner39@shaw.ca.
jwbell@timescolonist.com
We thought you might also be interested in..
Notice
: Undefined index: event in
/home/viccity/public_html/v2/content.php
on line
67