Kid-friendly celebration marks big birthdays for Victoria and United Way
Aug 07 2012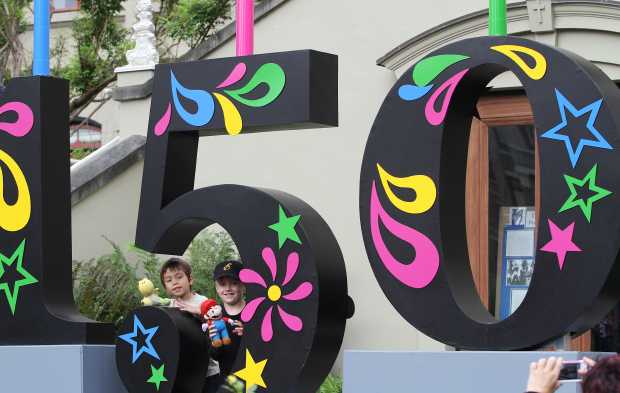 Kaden Oak, 7, and Riley Pearse, 8, pose for a photo during festivities Monday at St.Ann's Academy marking Victoria's 150th anniversary and the Greater Victoria United Way's 75th.
Photograph by:
Adrian Lam, Victoria Times Colonist , timescolonist.com Aug. 6, 2012
The squeals of laughter coming from children hopping in burlap sacks across the lawns of St. Ann's Academy at Monday's City United celebration showed fun doesn't have to be complicated or costly.

"It's amazing how simple games we've done forever were embraced by the kids," said United Way staffer Kim Manton. Whether it was one-legged races or egg-and-spoon competitions, "the kids were loving it all day."

The City of Victoria — celebrating its 150th anniversary — teamed up with the United Way of Greater Victoria, which is marking its 75th anniversary, for the day-long anniversary event on the lawns of St. Ann's. It was followed by an evening concert at the Cameron Bandshell in Beacon Hill Park.

The event offered numerous booths for children, including a mural in the making, face painting, cooking demonstrations, tennis and golf and even wheelchair instruction through Sportball, and mini music lessons for groups of children by Larsen Music.

"We created an instant band and improvised songs and introduced everyone and their instruments and there was a round of applause," said Anne Schaefer of Larsen Music. "Everyone had a chance to try stuff in a non-pressurized environment."

Paul Laverick taught a line of children how to strum a ukulele, while kids from toddlers to teens played the drums. "Everyone got their two minutes of fame," Schaefer said.

The day's festivities also offered live concerts at the back of the academy, art displays, chapel tours and the United Way's "passport to possibility," where everyone from children to seniors could learn about the struggles of people living in poverty in Victoria.

Linda Hughes, CEO of the United Way of Greater Victoria, said many of the children's games could be organized by any parent using inexpensive or household items.

Some of the activities centred on growing your own food — such as decorating peat pots and planting vegetables. Kale, cabbage, broccoli, chard and butter lettuce were all available for potting.

"It was awesome," said Rachel O'Neill. "I was shocked by the number of kids who wanted Brussels sprouts."

Roaming performers included a woman on stilts and a man parading a giant eagle, while everything from Tai Chi to Zumba was on offer.

The night was rounded out with a concert by Victoria band Jon and Roy, followed by DJ Nigel and the Juno award-winning Digging Roots.

The United Way kicks off its annual fundraising campaign Sept. 12, with a free pancake breakfast at 7:30 a.m. at Ogden Point.

ceharnett@timescolonist.com

We thought you might also be interested in..
Notice
: Undefined index: event in
/home/viccity/public_html/v2/content.php
on line
67