Nurse comes full circle in unit that cares for premature babies
Aug 09 2012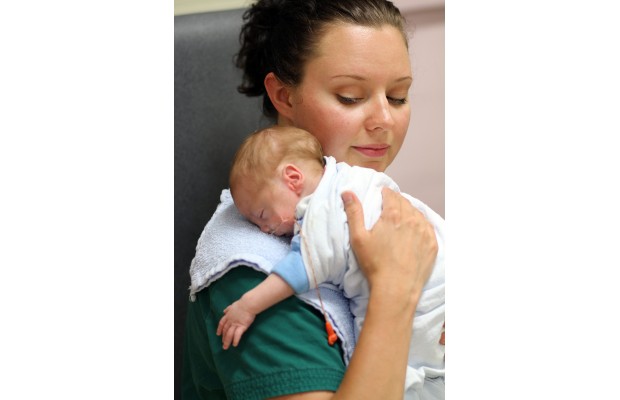 Nurse Sara Moore tends to six-week old Quillan Lockley in Victoria General Hospital's neo-natal intensive care uniye, the same place Moore was cared for as a premature baby.
Photograph by:
Bruce Stotesbury , timescolonist.com (August 2012)
Nursing graduate Sara Moore just got a job working with premature and sick babies on the neonatal intensive care unit at Victoria General Hospital — the same unit where she was cared for as a preemie in December 1983.
On Christmas Day, when Moore's parents came to visit infant Sara — born six weeks premature on Dec. 12 — they found the nurses had put her in a Christmas stocking.
"I still use that same stocking every Christmas to this day," Moore said.
It was that kind of nursing — which she also witnessed during her mother's four-year struggle with advanced colon cancer before she died in October 2009 — that convinced Moore to become a nurse.
"On her journey I saw what an impact nurses could have on a person's life — both positive and negative," Moore said.
"I wanted to be the kind of nurse that I would want taking care of my family members and loved ones, helping the patient and the family through difficult transitions."
Moore, 28, graduated from the nursing program at the University of Victoria in April and has been placed into a one-year, full-time position in Victoria General's neo-natal intensive care unit, which provides specialized medical and nursing care for about 600 babies a year. Moore got her feet wet when she was hired as a student nurse in the unit last August.
In June, Moore was hired with 209 other registered nurse graduates as part of VIHA's commitment in March to provide one-year, full-time employment to graduating registered nurses from any Vancouver Island nursing program in 2012-13. Of the new nurses being placed, 150 graduated from the University of Victoria.
Most new grads have been hired to work in hospitals where they have senior nurses to mentor them — including Tofino General Hospital, Port Hardy Hospital, Lady Minto on Saltspring Island, Nanaimo Regional General Hospital, Victoria General Hospital, Saanich Peninsula Hospital, Royal Jubilee Hospital and Cowichan District Hospital.
VIHA's new graduate transition program, in place since 2005, gave new nurses six-week mentorship opportunities. The budgeted amount for that program was not available from VIHA on Wednesday. The new program is an extension of that.
The starting salary for a registered nurse is about $56,000, according to VIHA. For 210 newly hired graduates, that would add up to $11.7 million. There is no new money budgeted for the extended program.
"Almost the entire cost will be offset in savings in overtime," said VIHA spokeswoman Moira McLean. The nurses were hired in areas where there are senior nurses available to mentor new nurses, but also in areas where there is considerable overtime, according to VIHA.
Moore said her favourite part of the job is when parents look at her, joyful tears in their eyes, and take their babies home.
She will reconnect and celebrate with some of those families today, when Victoria General's NICU hosts its 28th annual reunion party from 10 a.m. to noon.
ceharnett@timescolonist.com
We thought you might also be interested in..