Unwilling to wait for surgery, Saanich woman goes to Vancouver
Aug 10 2012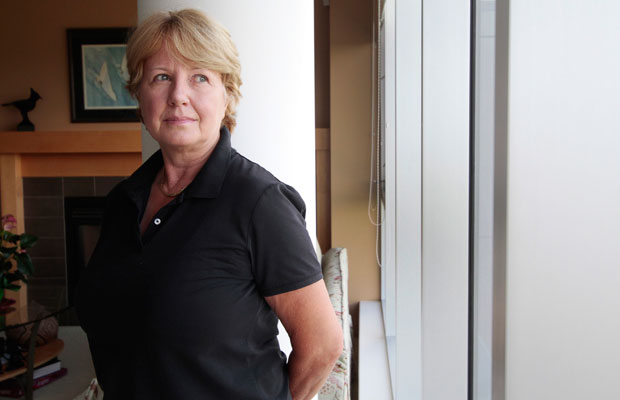 Karen Anema is recovering at her Saanich home after having a partial mastectomy at Vancouver General Hospital.
Photograph by:
Lyle Stafford , timescolonist.com (August 2012)
A Saanich woman diagnosed with breast cancer in late June and told she couldn't get surgery until the fall, took a ferry to Vancouver and got her surgery there on Aug. 3.
Karen Anema, 57, raves about the timely care she received June 27 after she saw a radiologist at Victoria General Hospital because of a lump in her breast. She had a mammogram, ultrasound and core biopsy in one shot.
"Perfection in motion is the breast-imaging department run by Dr. Paul Sobkin," she said.
Her radiologist had bad news: Initial tests showed a 95 per cent chance of malignancy. She needed to see a cancer surgeon immediately.
"That's when the wheels fell off the bus," Anema said.
"I have no criticism of the medical personnel. They are trying to function within a broken administrative system," she said. "It's impossible for them to provide timely care in a broken system run by the Vancouver Island Health Authority."
The VIHA experts in the field were not available to speak Thursday. However, VIHA noted that in July, 22 breast cancer surgeries were performed and all took place within the provincial benchmark of two weeks.
Initial biopsy results can take up to five days, while more detailed results can take up to five weeks.
But on July 10, Anema had not yet received the initial biopsy results, and her appointment with Victoria cancer surgeon Dr. Alison Ross was rescheduled.
On July 25, Anema was told Ross had three to five surgical spots in August being used by patients needing more urgent surgeries, and that she would have to wait until fall. Ross could not be reached for comment.
VIHA argues that it can only act or juggle scheduled operating room time when surgeons have submitted a booking request for surgery. There was at least one example last month where a surgeon's office made a decision on July 19 to operate but didn't submit a booking request until two weeks later on Aug. 2, VIHA said.
Anema wrote a letter July 25 complaining about the situation to B.C.'s premier, the head of the Vancouver Island Health Authority and her MLA.
"The problem is VIHA's mismanagement of the resources they control, from medical staff, to infrastructure, to most specifically a lack of OR time slots afforded to surgeons - in particular during the summer months when the ORs are shut down," Anema said.
"Summertime slowdowns" affect elective surgery only; urgent and emergent surgeries are still done during summer months, according to VIHA.
Seasonal slowdowns are necessary so that physicians and staff can take time off "like everyone else," VIHA said.
The next day, Anema went to West Vancouver, where she lived for 30 years.
On Aug. 1, Anema had a consultation with a North Vancouver cancer surgeon. VIHA told Anema that not enough investigative work had been done to warrant operating room time and that it was still awaiting final biopsy results, she said.
But the North Vancouver surgeon advised Anema to move quickly and said he had enough test results to proceed.
Within three hours, Anema had blood work, a chest X-ray and an abdominal ultrasound done. Two days later, she had a partial mastectomy and lymph nodes removed at Lion's Gate Hospital, which is run by Vancouver Coastal Health Authority.
According to the B.C. Ministry of Health website, the average wait times for mastectomies from April to June 2012 at Vancouver Coastal Health Authority were slightly longer than both VIHA and the provincial average.
"Cancer patients in Victoria deserve the same level of care those in the Lower Mainland are routinely provided," Anema said. "In my mind, this speaks to public funds spent on health care can be managed well, or poorly."
She called for a thirdparty review of how VIHA manages its resources, saying, "Moving to Victoria in regards to delivery of medical care has been akin to falling off of the grid.
Anema is now home recovering from surgery. During a Thursday appointment at Victoria General, she was told her final biopsy tests were still not available. ceharnett@timescolonist.com
We thought you might also be interested in..