Champion cyclist Ryder Hesjedal welcomed home in style
Aug 11 2012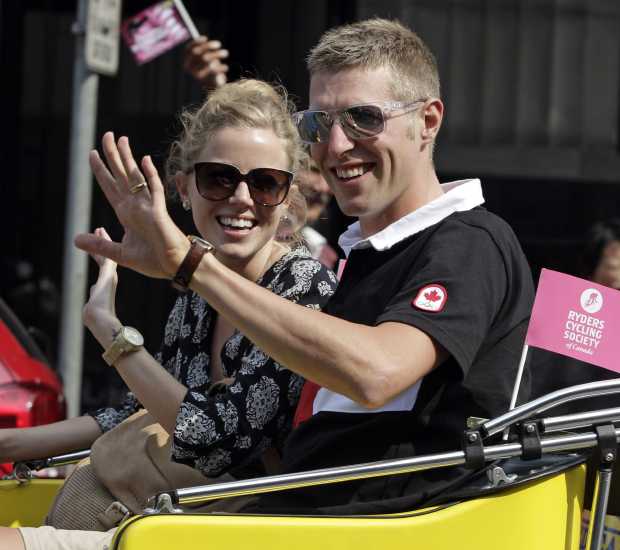 Cyclist Ryder Hesjedal and his wife Ashley ride in a pedicab to homecoming celebrations at Centennial Square on Friday.
Photograph by:
Bruce Stotesbury, Victoria Times Colonist , tiimescolonist.com Aug. 10, 2012
It was perhaps telling that 2012 Giro d'Italia champion Ryder Hesjedal of Victoria didn't wear a Garmin pro team jersey for his homecoming celebrations Friday, instead opting for a Canadian team shirt from the 2012 London Olympics.

Community and country matter more.

"It turned out a little different than I set out to do at London, but that's sport," said Hesjedal of his mid-pack finishes in the road race and time trial.

It weighed little on supporters in his hometown, where he's still admired as the cyclist who worked hard to get himself ready for the London Olympics after crashing out of the Tour de France.

But the big accomplishment on the season was winning the Giro d'Italia and that can't be erased. It was the first time a Canadian has won a Grand Tour cycling event.

In honour of the breakthrough — which made Hesjedal the proud owner of the winner's pink jersey — Victoria mayor Dean Fortin announced that the city would install two pink bike racks, one in Centennial Square and the other at the Cecelia Ravine bike skills park.

Hesjedal said he was honoured by the city's gesture and pleased it would benefit the community. "And pink has been the colour of the year, so that's quite appropriate for the racks."

A parade up Government Street got the homecoming festivities started. Hesjedal, accompanied by his wife, Ashley, got someone else to pedal this time as they were taken to Centennial Square in a pedicab flanked by police motorcycles and numerous supporters riding alongside. The bike Hesjedal rode to victory in the Giro was attached to the roof of a car and was on prominent display.

After a brief official ceremony in the square and a Q-and-A session on stage, Hesjedal signed autographs and had his picture taken with hundreds of fans.

"Ryder has inspired me to ride," said 13-year-old Erik Diertens, who was at Friday's celebrations with VAC Pro City Cycling Club teammates John Willcox and Isiah Green, both 14.

"It was really cool in 2010 when Ryder finished sixth in the Tour de France and this year I watched every stage of the Giro and got up early to watch the Olympic races. He is a big cycling hero to Canadians."

Even fellow big-name Olympians have been infected by Ryder-mania.

"Ryder inspired me to get on my bike for the first time in 20 years," said Olympic rowing legend Silken Laumann, who took in the festivities.

"The timing of his success at this point in the sport has been far-reaching in this country. It has even grown the appetite for recreational cycling."

By late afternoon, several hundred people were circling a stage where Hesjedal was holding court with friends and family members. Several kiosks and food vendors dotted the square but they were virtually customer-free — all eyes were on the returning hero.

Parents and children, cyclists in full gear and a host of admiring citizens were held in rapt attention.

Even the spacious beer garden on the opposite end of the square has having a lull, with perhaps half a dozen patrons.

One of the kiosks was run by the Greater Victoria Cycling Coalition, where Jim Alix mused on the huge positive effect that Hesjedal's success will have.

"Any publicity is good publicity, of course, but Ryder's fame is certainly going to make more people aware," he said. "If we can get kids in school racing, so that they learn how to ride properly, they're more likely to come back to bikes after they get their first job and move away and return."

It could also become their sport of choice as they grow up, Alix said.

The ideal is to have programs that teach children early on about the sport of cycling, he said.

Hesjedal, who is preparing for two World Cup races next month in Quebec, was appreciative of the hometown support.

"I used the south Island as my playground … it is conducive to everything you need to do," said Hesjedal, when asked why the Island produces so many international athletes.

The sentiment was reflected in the first thing Hesjedal did when returning from London this week: "I was riding the Galloping Goose trail within eight hours of arriving back in Victoria."

cdheensaw@timescolonist.com

— With a file from Jeff Bell

We thought you might also be interested in..