Saanich looking into drilled trees
Aug 11 2012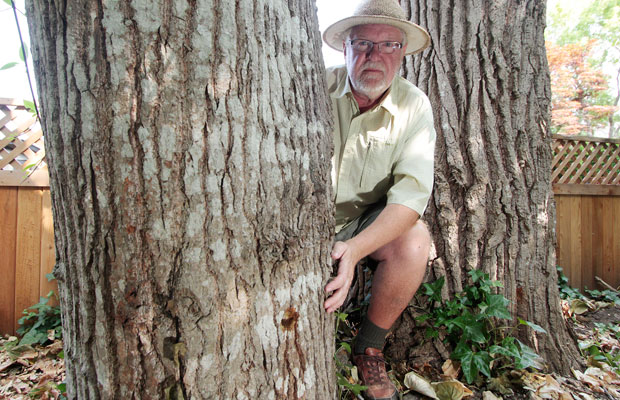 Six trees on Bob Adair's property near the Saanich-Oak Bay border have had holes drilled into them.
Photograph by:
Lyle Stafford , timescolonist.com (August 2012)
Saanich's parks department is looking for answers after a resident found holes drilled into six of his trees.
Bob Adair noticed about a month ago that six cottonwood trees on his Saanich property were quickly losing their leaves. Upon inspection, he found a large hole drilled into each one.
"These are glorious cottonwoods. Their yellow leaves hang on into December," Adair said. "That's not going to be happening this year."
Rae Roer, senior manager of parks, said his staff visited Adair's property on Thursday.
"They visually observed - the trees were in various states of stress," Roer said.
The trees are on a vacant lot that Adair owns adjacent to his home. Located just north of Camosun College, the vacant lot is right on the border of Saanich and Oak Bay, Adair said.
The trees are protected by a covenant that restricts development, as the land is to be kept in its natural state.
Saanich's tree preservation bylaw prohibits damaging activities such as depositing a harmful substance in a tree.
Adair said the cottonwood trees vary in height and reach as high as 22 metres.
One tree is 80 centimetres in diameter, measured at chest level, which Adair said means it is protected under the same bylaw.
"We're concerned about the trees," he said. "It's vandalism and a criminal offence and it breaches the bylaws of protecting these trees.
Adair has hired a private arborist consultant to investigate what has caused the trees to lose their foliage.
While the arborist is still investigating, Adair said he has already mentioned that it would take a large dose of a damaging substance to harm the trees.
Adair has also reported the incident to Saanich police.
Roer said his department is awaiting Adair's private consultant's report.
mkaralis@timescolonist.com
We thought you might also be interested in..
Notice
: Undefined index: event in
/home/viccity/public_html/v2/content.php
on line
67