Grow-op discovered in vacant retail space
Aug 16 2012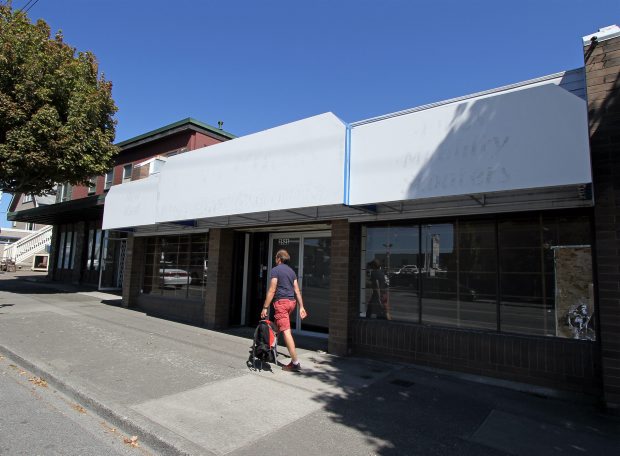 Victoria police say they found a large-scale grow-op in a vacant business on Government Street near Bay Street. The renters installed a white wall to cut the space in half so they could operate in the back and also installed bars on the windows.
Photograph by:
Bruce Stotesbury , timescolonist.com (August 2012)
Victoria police are looking for the person who set up an large-scale marijuana grow-op inside a vacant business on busy Government Street.
Victoria police raided the business at 2521 Government St., the former home of Murphy Wall Beds, on Aug. 7 after an employee from a neighbouring business noticed water pouring under a door.
Patrol members found remnants of marijuana and growing equipment such as lights in the 1,000-square-foot space located near Bay Street, said police spokesman Const. Mike Russell.
"There was nothing left in there but certainly evidence that there was a large-scale marijuana operation," Russell said.
Russell said police suspect the tenant was behind the alleged grow operation. Investigators have identified him and are gathering evidence to make an arrest.
Don Oberley, who owns Irene's Bakery next door, said it was his delivery driver who noticed water coming from a hose that was left on and called police.
The tenants were only seen coming and going at night, Oberley said. He said the only evidence of their presence was a new wall built to cut the business space in half, as well as bars on the windows.
Oberley speculated the site was carefully picked because Murphy Wall Beds had a large electrical outfit to cut wood so B.C. Hydro might not have noticed if an unusual amount of power was being used. He also said there was a venting system in the building to air out paint.
Russell said it was rare to see a grow-op set up in a retail space.
"Usually the stuff we deal with is residential grow operations," he said. "This is certainly out of the norm for what we typically encounter in Victoria."
kderosa@timescolonist.com
We thought you might also be interested in..
Notice
: Undefined index: event in
/home/viccity/public_html/v2/content.php
on line
67