Restored carriages take family on a trip down memory lane
Aug 16 2012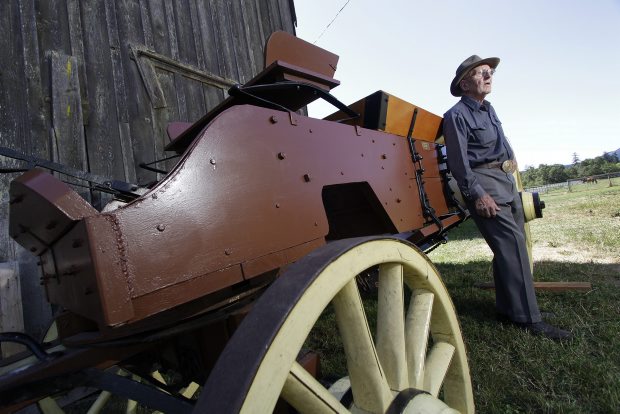 Alan Pugh, 89, with a wagon from the turn of the 20th century that he restored. Many of the more than two dozen buggies, carriages and pieces of antique farm equipment at his West Saanich Road farm come with memories.
Photograph by:
Lyle Stafford , timescolonist.com (Agust 2012)
As Alan Pugh leans against the restored gravel-dump wagon, it conjures up the time when West Saanich Road was a farm track and the wagon was used to build the road to Butchart Gardens and carry fill to the site of the Empress Hotel.
"They used four horses to pull it out of the gravel pit, with about eight guys loading it with shovels and scoops, and then they'd use two of the horses to take it down to the Empress," said Alan, 89.
His father-in-law used to drive the wagon, which was gently rotting on his property when Alan decided to start restoring it about 25 years ago.
"That was when it kind of snowballed," said Alan, gesturing at the more than two dozen restored buggies, carriages, pieces of antique farm machinery and commercial equipment at Hi-Lo Farm on West Saanich Road.
His wife, Lorna Pugh, can remember her father driving the gravel wagon as Benvenuto Avenue was constructed in 1929, allowing better access to Butchart Gardens.
The gardens became a magnet for artists, Lorna said.
"We used to row across from Brentwood and see how many artists we could get to ask us to pose," she said.
"I don't know why they would ask us because we were the dirtiest little urchins you have ever seen."
Beside the gravel wagon is a grain tank from the turn of the 20th century.
"I did the wheels on that myself," said Alan, looking at the wooden wheels encased in steel.
Steel bands were heated over an open fire until they were red-hot and placed around the wheels. Water was then dropped on the wheels to cool the metal before it burned the wood.
Some vehicles, including the 4X bakery truck with the original sign carefully reproduced on its side, are taken to Saanich Fair each year.
"You always have people coming up saying, 'I remember getting cakes and bread from them,' " said daughter Frances Pugh.
Like many of the vehicles, it was in shocking condition when it came to Alan.
"It was being used as a chicken house. There were no wheels on it or anything," he said. "But the side walls were enough. I could get it done."
Alan has concentrated on restoring Canadian vehicles and many are from McLaughlin Carriages, a going concern in Ontario from 1876 until about 1915, when automobiles started taking over from horses.
A McLaughlin surrey carriage displays the latest 1910 style, complete with a fringe on top, and a quick swivel converts the twoseater to a roomy fourseater.
"It folds out very neatly," said Frances, who drives horse-drawn buggies and carts as a hobby.
Beside it is McLaughlin's top-of-the-line buggy from 1900.
"It has all the bells and whistles. The fifth wheel cuts in so you can turn really sharply," Frances said.
In addition to the wheeled vehicles, there are a number of intricately restored sleighs.
"This one came from Duncan. We used to have pretty good winters," Alan said, recalling at least three weeks of snow.
A footwarmer, with compartments for charcoal, was designed to keep passengers warm.
"With that and a buffalo rug, you were all set up," Alan said.
One of the question marks is whether to restore the original intact 1895 sleigh sitting in a corner of the barn.
"Do you restore it or leave it original?" wondered Frances.
As years pass, it is becoming more difficult to find horse-drawn vehicles that have fallen into disrepair and fewer people are bringing Alan bits and pieces found in the fields.
"They are getting a lot scarcer," he said.
"But it has been a good hobby. It has kept me out of mischief. I guess it's just a challenge, more than anything."
jlavoie@timescolonist.com
We thought you might also be interested in..
Notice
: Undefined index: event in
/home/viccity/public_html/v2/content.php
on line
67