Two injured in Pat Bay crash near safety-upgrade site
Aug 17 2012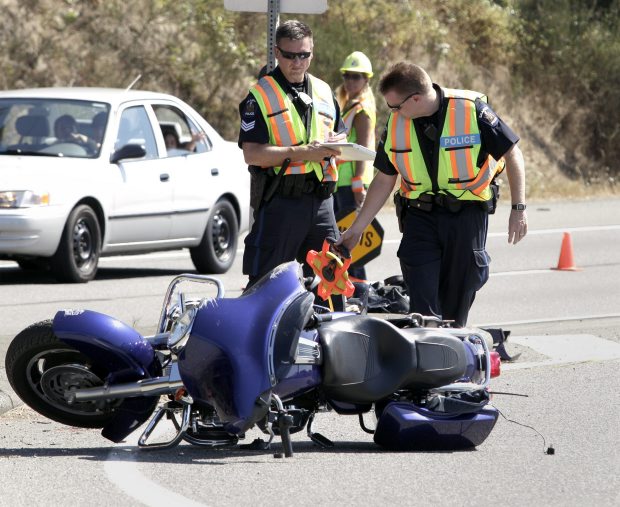 Police investigate the scene of a crash Thursday on the Pat Bay Highway that sent two people to hospital.
Photograph by:
Bruce Stotesbury , timescolonist.com
Two people were taken to hospital with serious injuries Thursday after a three-car rear-end crash on the Pat Bay Highway, not far from where the province is planning $3 million in safety upgrades to prevent such accidents.

Around 12:20 p.m., a northbound car was slowing due to congestion near Piedmont Avenue when it was rear-ended by a pickup truck.

A motorcycle behind the pickup braked hard to avoid the crash, and the driver lost control, said Saanich police Sgt. Mike Barkley, who heads the traffic section. The two riders, both in their 40s, were thrown from the motorcycle and tumbled along the road, hitting the pickup truck and becoming entangled in its rear tires.

The female passenger received serious chest injuries and the male driver suffered a head injury, Barkley said. They were taken to hospital with injuries that were believed to be non-life-threatening.

"That's a piece of highway that is a concern to the traff secti because of the number of collisions that take palce," Barkley said.

The northbound lanes of the highway north of Haliburton were closed, then traffic was limited to one lane for hours as analysts investigated. The closure snarled traffic in both directions.

The crash took place a day after Transportation Minister Blair Lekstrom and municipal politicians announced $3 million in safety upgrades to the highway near Sayward Road, where 169 northbound rear-end collisions occurred over a five-year period.

The accident occured near the site of planned congestion-warning signals just south of Cordova Bay Road. It's hoped the flashing signals will stop people from following too close and speeding.

Saanich Coun. Judy Brownoff said Thursday she was disappointed motorists didn't get the message to slow down and pay attention following wide media coverage on Wednesday of safety concerns on that stretch of highway.

"It's unfortunate because [media outlets] raised the issue about the safety concerns, and then the very next day crews are out there and boom, boom, boom — rear-ender," she said.

Brownoff said traffic studies have found the majority of accidents on the highway are the result of driver inattentiveness.

kderosa@timescolonist.com

— With a file from Derek Spalding

We thought you might also be interested in..