Cyclist finishes cross-Canada trek to raise hospice funds
Aug 18 2012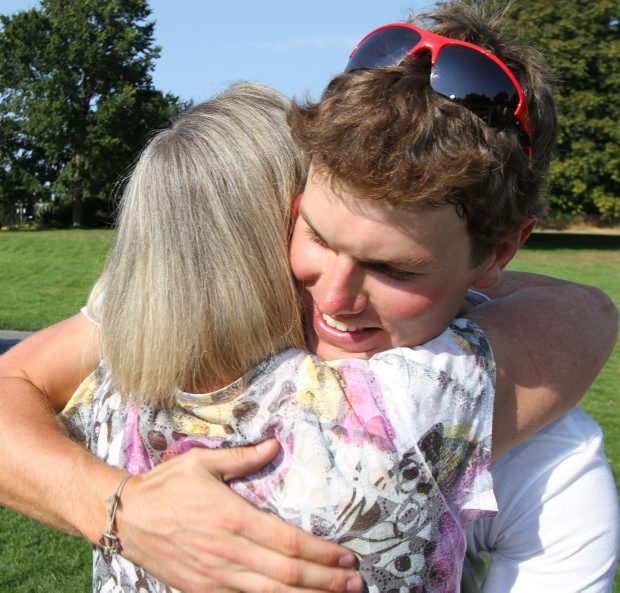 Sean Jacklin hugs his mother Sharon Jacklin after he returns to Mile Zero.
Photograph by:
Bruce Stotesbury , timescolonist.com (August 2012)
Sean Jacklin jumped off his bicycle at Mile Zero Friday afternoon and was swarmed by family, all wanting to hug their young hero.
"Hi, I'm here! I smell really bad," said a beaming Jacklin, 22, at the conclusion of a cross-country bicycle ride dubbed the Cycle of Life Tour, which raised $22,000 for Victoria Hospice - an accomplishment commended by Tamara Dean of the Victoria Hospice and Palliative Care Foundation.
"Really," she said, "what it's doing is raising awareness for the hospice movement across the nation."
Jacklin left Victoria on June 5 to begin his trek eastward, inspired to help hospices after learning his grandmother spent the last three weeks of her life at the one in Comox.
Then, half-way through the tour, Jacklin got word that his grandfather had fallen ill and was in the Campbell River hospice with just days to live.
He flew home to be with his grandfather when he died.
"We got to see him off in the best way possible," Jacklin said. "This is what I'm raising money for and this is the cause. It's unreal."
Jacklin resumed his journey with a vial of his grandfather's ashes, which he scattered in the Atlantic Ocean.
He stopped at hospices along the way, and in hearing people talk about death, learned a lot about life.
"It's quite emotional walking around a place like that and people are so comfortable talking about death," he said. "I talked to a woman in Kelowna, and the difference the hospice made in the community was pretty incredible."
He reached St. John's this week and flew back to the West Coast, finishing with a celebratory ride from the Swartz Bay ferry terminal to Mile Zero.
Jacklin said waking up everyday and getting on his bicycle was a challenge that sometimes seemed insurmountable.
"Every morning, I faced with the fact I [had] to ride 150 kilometres that day. I just came to terms with it and it became normal."
The worst part was the flat and windy Prairies, he said.
"There was a day where I thought, 'Where's the nearest airport? I gotta go home, I can't do this anymore.' "
But he got going and ended up riding another 100 kilometres before stopping. In the process, he learned that any goal can be reached if you want to get there bad enough.
"I didn't cycle that much before my tour across Canada."
Now that he's finished riding across the country, would he consider doing it again?
"No," he said firmly. But he's willing to share his knowledge and encourage anyone else who's gutsy enough to set off on a similar ride.
His other grandfather, Gus Jacklin, said the family was relieved he made it home safely.
"I'm glad he didn't get involved in an accident," he said.
To learn more or donate, go to cycleoflifetour.ca.
smcculloch@timescolonist.com
We thought you might also be interested in..
Notice
: Undefined index: event in
/home/viccity/public_html/v2/content.php
on line
67