On the 70th anniversary of Dieppe, veteran recalls catastrophic raid: 'We were very pleased we didn't go'
Aug 19 2012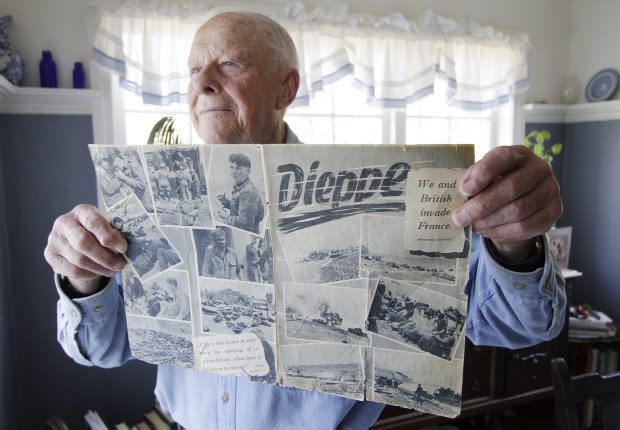 David Stirling, who was stationed in England during the 1942 Dieppe raid, holds a pamphlet that was dropped on his camp in the following days.
Photograph by:
Lyle Stafford , timescolonist.com (August 2012)
Veteran David Stirling delicately turns over a worn pamphlet covered in black and-white photos of war casualties and destroyed tanks. In large black letters is the headline "Dieppe."
The 1942 pamphlet is a stark reminder of the Second World War military assault on France's port city - a mission that Stirling says he can only describe as "utter catastrophe."
Today marks the 70th anniversary of the Allied raid, which saw 6,000 men - including 5,000 Canadian troops - storm France's northern shore. Within six hours, more than 900 Canadians had died and thousands more were wounded or had became prisoners of war. Some battalions lost up to 90 per cent of their men.
Stirling said he was grateful that he wasn't on the beach that day.
"We thought it was a bad situation," said the Victoria man, who was a member of the 8th Reconnaissance Regiment, part of the 2nd Canadian Infantry Division stationed at Petworth in West Sussex, England. "We were very pleased we didn't go."
Days after the raid, Stirling looked up to see pamphlets dropping from the sky into the camp.
"We picked up those around camp," he said. "These were dropped by Germans several nights after the Dieppe raid."
The pamphlets showed photos of the French shore after the raid: helmets scattered on the beach, seemingly indestructible Churchill tanks rolled into ditches and images that evoked the dead.
The reaction in the camp was sombre.
"This was pretty sobering to see this," he said, adding, "All that was learned was that to try and invade Europe was going to be a tough job."
A line on the pamphlet reads "We and British invade France," and is signed American Journal.
"These were dropped primarily on Canadians," said Stirling, adding that he thought it was meant to demoralize troops.
"It doesn't mention Canadian [involvement] at all."
Stirling said the raid was doomed before it even started.
"The planning and the terrain and the German defence was such that it was almost certain to be a catastrophe," he said. It was a controversial event in Canadian history, he said, because some believe the raid - and the lessons gained from it - built to success on D-Day two years later.
Sunday is a chance to remember the sacrifices made on that day, he said.
"It's something that shouldn't be forgotten," he said. "These people gave their lives for a cause." cclancy@timescolonist.com
We thought you might also be interested in..