Blood clinic sees dip in donations
Aug 19 2012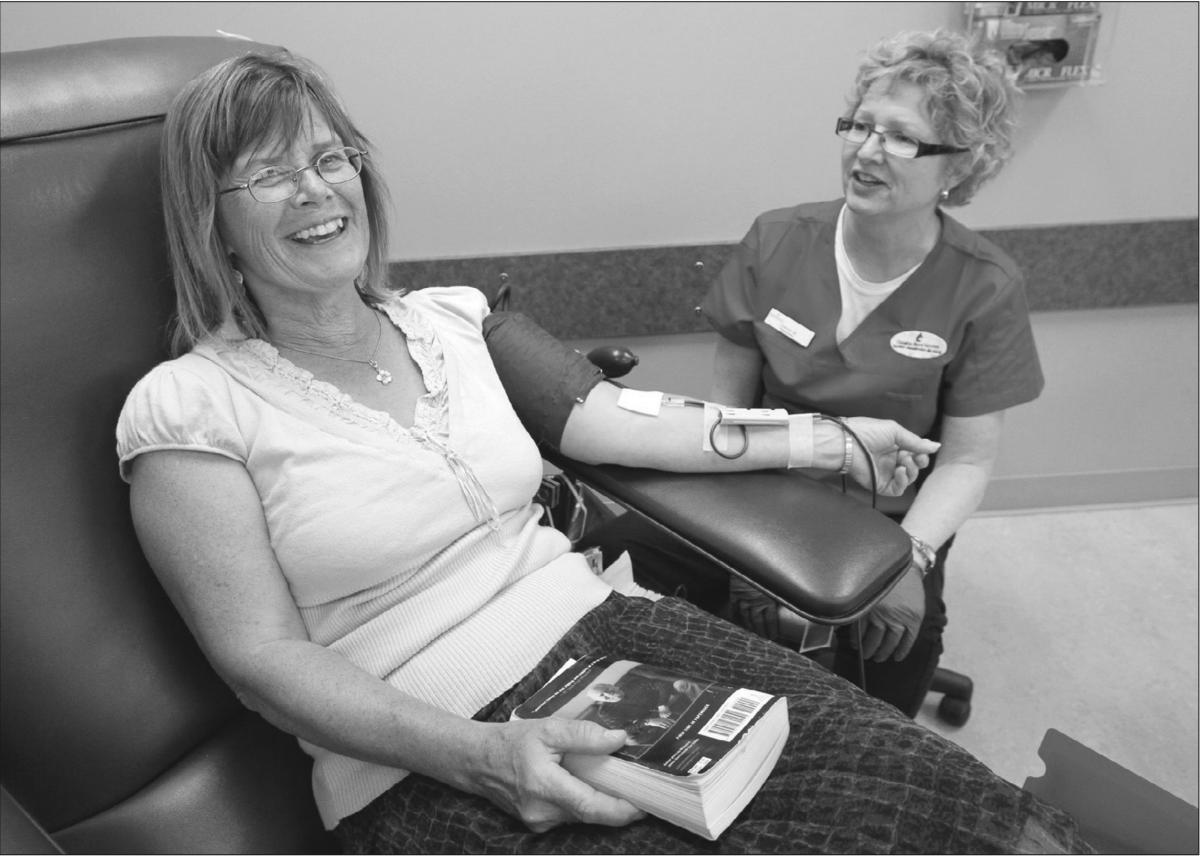 Harriet Cunningham gives blood with phlebotomist Joanne Mason at the Canadian Blood Services clinic on Saanich Road. The clinic sees a drop in donations during the summer months.
Photograph by:
Bruce Stotesbury, Times Colonist , Times Colonist
It's as much a part of summer as long, sunny days, softball games and cold drinks on the deck.
Every year, Canadian Blood Services sees a drop in blood donations - a byproduct of regular donors being on vacation and the balmy weather drawing people away from their regular routines.
"It is a challenging time," said the blood agency's Catherine Sloot. "We are not meeting our weekly targets. And on the year, as the B.C. and Yukon region, we are also off the mark."
Sloot said the city's main donation centre on Saanich Road holds donation clinics regularly during the summer months, and strives to reach a weekly benchmark.
"For Victoria, we need to collect 80 units of blood every time we open on a Tuesday, Wednesday or a Thursday."
For the past eight summers, a public-service challenge has been held during Public Service Week in June to help kickstart seasonal donations. "The municipalities and the federal agencies and the provincial ministries compete," Sloot said.
This summer has been an especially tough one to keep donations flowing, she said.
"Generally, across the board, people are just not as aware or not picking up on it," she said. "It just seems to be getting more and more difficult, but the [need] in our hospitals continues."
Along with the weekly openings, the Saanich Road centre is open every other Saturday, with the next session on Aug. 25. Sloot said there are also mobile clinics making the rounds, with stops in Sidney this week and at CFB Esquimalt and in Sooke next week.
The public is encouraged to make appointments before going to donate, either at blood.ca or by calling 1-888-966-7222. There is a limited number of walk-in appointments available.
"The benefit of having somebody make an appointment is that we know what kind of blood is coming in the door," Sloot said. "So we'd be in a better position to service our hospital clients in terms of distribution of what they need."
As summer 2012 winds down, efforts to bring in donors are going full bore, Sloot said.
"We're pushing every way we can," she said. "Before your holidays, come in and donate. After your holidays, come in and donate. Bring a friend."
GOLF-THEMED BOOK SUPPORTS CAREGIVERS
There's not much Rick Hoogendoorn wouldn't do for his favourite cause - the Family Caregivers' Network Society.
The Victoria real estate agent serves as president of the society and helps organize its annual fundraising golf tournament. Now Hoogendoorn has written a golfthemed book, 18 Holes to Your Goals, dedicating all of the profits to the group and the work it does to support unpaid family caregivers.
The book is $20 and available through the agency.
"The idea of fundraising is a backdrop to the book," Hoogendoorn said. "All the past golfers, hole sponsors and silent-auction donors are listed in the back of the book as a thank you."
This year's golf event is scheduled for Sept. 14 at Cedar Hill Golf Course, with a Texas scramble format. Cost is $130 per person.
Golfers or potential hole sponsors can call Glendora Scarfone of the Family Caregivers' Network at 250-384-0408.
LADIES GRATEFUL FOR GENEROUS TREAT
A group of 12 seniors out for a social evening was surprised by an anonymous benefactor (or benefactors) who picked up the tab for the entire bunch.
Stephenie Natta said the women belong to a small club that meets regularly to socialize, play cards and go on outings. She said members were at their monthly dinner in the restaurant at Cordova Bay Golf Course, an occasion that included celebrating three members' birthdays, when the generous act took place.
Between the singing of Happy Birthday and the bit of club business that went on, Natta figures someone must have overheard and decided to do something special for them.
By the time the women realized what had happened, whoever had stepped forward to pay had stepped out.
"Twelve of us, that's a lot of money," Natta said. "It was amazing."
CREDIT UNION HELPS POWER TO BE
A recent $20,000 grant from Coast Capital Savings will allow Power To Be Adventure Therapy's Wilderness School to serve more youth than ever.
Coast Capital has supplied grants to the program for five straight years, supporting an effort that aims to bolster social development through outdoor activities. The grants total $80,000.
Tim Cormode of Power To Be said that Coast Capital Savings is making a difference in the community by investing in youth and families.
LOCAL WALK FOR ALS SET FOR SEPT. 16
The annual Victoria Walk for ALS is set for Sept. 16 at the University of Victoria.
The Victoria walk is one of 15 in support of the ALS Society of B.C. & Yukon. Walks are happening in communities across the country, as well.
Money raised goes to research into ALS, or amyotrophic lateral sclerosis, a degenerative neuromuscular disorder also known as Lou Gehrig's disease. Programs for people living with ALS also benefit.
Last year, 84 ALS walks were held in Canada and raised a combined total of $3 million.
More than 19,000 walkers took part.
For more details or to register, go to walkforals.ca.
jwbell@timescolonist.com
We thought you might also be interested in..