Broadmead Village facelift gets green light from Saanich council
Aug 22 2012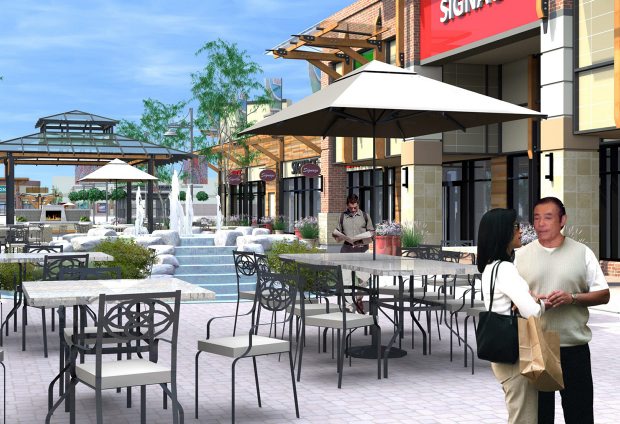 Planned changes to the Broadmead Village Shopping Centre include a new breezeway area with an interactive water feature and an outdoor fireplace. The project will also add 1,900 square feet of retail space to the centre.
Photograph by:
Courtesy , Grosvenor Americas
The Broadmead Village Shopping Centre is going to get a $6.5-million facelift.
Saanich councillors on Monday unanimously approved a development permit amendment to allow improvements to proceed.
Grosvenor Americas plans to update the Broadmead retail centre with new building facades that will bring a more West Coast contemporary feel to the shopping centre.
The entire project will cost at least $6.5 million, said Alison Miles Cork, Grosvenor senior asset manager.
"We built the centre about 22 years ago now and certainly the retail landscape in Victoria is changing and the centre is beginning to look tired," Miles Cork said.
"We want to ensure that we continue to be the preeminent neighbourhood shopping centre in Victoria and continue to attract quality retailers and traffic to the centre."
Awnings will all be removed and replaced with wood and glass canopies to allow more natural light. A combination of wood, stone, glass and brick and additional border plantings will be used throughout the centre.
The first phase of renovations, scheduled to start next month, will begin in the breezeway area.
Additions include an interactive water feature, a glass pavilion to provide covered seating, an outdoor fireplace, two new retail kiosks and new signs.
The breezeway area was chosen for the first phase because it will have the greatest impact on community enjoyment, Miles Cork said.
"It's a real gathering place around a fireplace and a place where people want to sit and chat and spend time. That's really what we want the community to be doing," she said.
The the breezeway area could be used for community events or just as a place for people to sit and have a cup of coffee, she said.
Sustainability features include permeable pavers that allow water to move through the surface, energy-efficient storefront glazing and LED lighting for signs.
Through infilling and the addition of two kiosks, 1,900 square feet of retail space will be added to the 134,780-square-foot centre.
The improved centre will also include wider sidewalks and raised crosswalks.
Mayor Frank Leonard said council was pleased with the proposal.
"We've always wanted that mall to have a certain bit of a character of its own," he said.
"Everything will have a whole new frontage. Sidewalks will be improved.
Access from the south will be improved. So it's not a tinkering. It's a major redo."
Grosvenor is a privately owned property group. It has regional investment and development businesses in Britain and Ireland, the Americas, Continental Europe, Australia and Asia Pacific.
bcleverley@timescolonist.com
We thought you might also be interested in..
Notice
: Undefined index: event in
/home/viccity/public_html/v2/content.php
on line
67