Esquimalt to release police bids
Aug 22 2012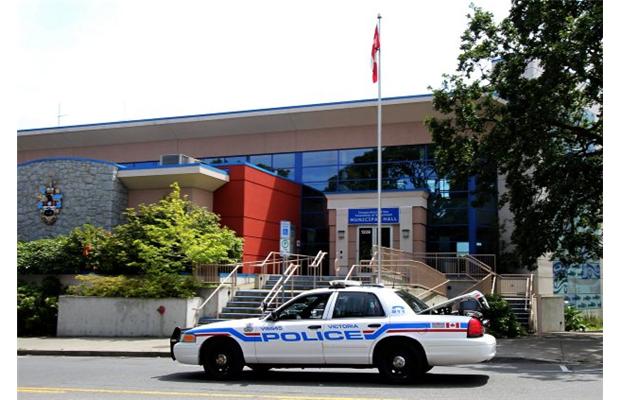 A Victoria police car in front of Esquimalt Municipal Hall. Esquimalt council would have preferred an RCMP presence.
Photograph by:
Bruce Stotesbury , timescolonist.com
Esquimalt has bowed to pressure to release proposals from the RCMP and Victoria police, giving the public a glimpse of why the council wanted to ditch VicPD for the Mounties and why the province rejected that plan.
At a committee of the whole meeting on Monday night, council voted in favour of releasing the proposals within 30 days.
Coun. Dave Hodgins said the proposals should be released as soon as possible - within the week for the RCMP proposal.
"I believe in giving the information to the public now," Hodgins said. "I've been calling for that since November of last year."
Esquimalt favoured the RCMP proposal over that of the Victoria police, but Justice Minister Shirley Bond overruled after a report by a mediator recommended that Esquimalt and Victoria police work out their differences. The township and the department have had an acrimonious relationship since a forced merger of police forces in 2003.
Despite receiving the goahead from the RCMP and Victoria police to make the proposals public weeks ago, Esquimalt Mayor Barb Desjardins said Aug. 13 that the municipality was still waiting for a response from the police departments.
On July 26, RCMP Deputy Commissioner Craig Callens said in a letter that Esquimalt could release the proposal at its discretion in consultation with the Ministry of Justice.
In a letter dated Aug. 2, the City of Victoria said it "does not object to the disclosure of the proposal. In fact, as you know, the Victoria city council has consistently been in favour of making this information public, subject only to withholding sensitive police operational information in the proposal." The only caveat was that the Victoria Police Board also had to approve the release.
On Tuesday, Desjardins said that staff was waiting for clarification on the conditions in the letters before making comments about the release of the proposals.
She said the council would ask Victoria police and the RCMP to provide them with redacted copies of the proposals to protect any sensitive operational information.
Meanwhile, B.C.'s privacy commissioner is reviewing two Freedom of Information requests for the policing proposals that were turned down by Esquimalt.
Victoria Police Const. David Bratzer and the Times Colonist appealed the township's decision on the basis that the documents' release would be in the public interest.
Esquimalt has also not released a report from its Police and Law Enforcement Advisory Board that outlined why it backed the Mounties over VicPD.
kderosa@timescolonist.com
We thought you might also be interested in..
Notice
: Undefined index: event in
/home/viccity/public_html/v2/content.php
on line
67