Councillors slam plan for cell tower on golf course
Aug 22 2012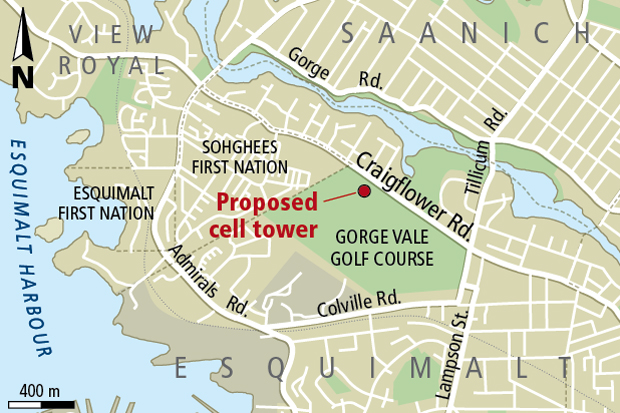 Gorge Vale Golf Course
Photograph by:
timescolonist.com (August 2012)
A proposal by Rogers Communications to install a 40-metre cell tower on the Gorge Vale Golf Course has some Esquimalt councillors steamed.
Several councillors spoke against the proposal at a council meeting this week.
"I guarantee you if you were to phone every single household in Esquimalt and say: 'Do you want a 40-metre monstrosity growing out of the middle of the community?' I'm sure you'd have a very difficult time finding anyone to say yes to that," said Coun. Tim Morrison.
Morrison said the tower does nothing to enhance community esthetics.
"It's not industrial land that can be exploited with a manmade, 40-metre monstrosity. That's essentially what's happening and unfortunately we have no control over it."
Municipalities have no authority over communications tower placement, which is regulated by the federal government.
"I see all the gain for Rogers. I see all the gain for Gorge Vale Golf Course. I see zero gain for the community of Esquimalt," Morrison said.
"And even if we were allowed to tax it or get a piece of the pie, I still would not be interested in this."
Coun. Bob McKie cited the proliferation of towers and antennas and their potential health concerns as his main reason for opposing the tower.
"Until we have a chance of saying, 'Yes, you can have a tower' or, 'You can put an aerial up on top of an apartment block,' I don't think we should be allowing anything more in Esquimalt or we're all going to be walking around with our hair standing straight up and turning green," he said.
Coun. Lynda Hundleby suggested council be provided with information about local flight paths and warning systems that could be used to ensure that a tower would not be topped with a strobe light because of its proximity to homes on Craigflower.
Councillors decided to write the golf course expressing concern about the potential tower installation.
"We should definitely let the golf course know that this is a grave concern for us - these towers - the sheer number of them that we're getting in the community. Unfortunately, it doesn't appear we have any say to actually disapprove or approve," said Coun. Meagan Brame.
When contacted by the Times Colonist, Gorge Vale Golf Course general manager Mike Whalen said he had no comment on the matter.
Rogers, which has been consulting with the community about the tower since March, plans to install the mono-pole on a 10 metre by 10 metre site in the golf course's northwest corner.
Plans call for the site to be fenced and landscaped and for it to be equipped with a silent alarm.
bcleverley@timescolonist.com
We thought you might also be interested in..