After 50 years battling blazes, waterbomber retires to U.S
Aug 22 2012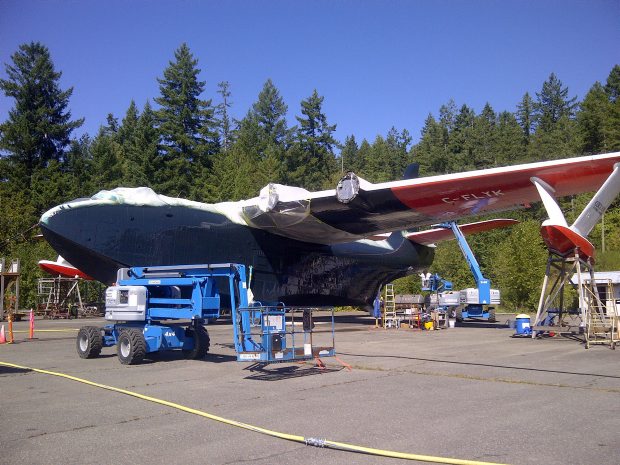 The Coulson Group's Philippine Mars gets a new paint job in preparation for its flight to the National Naval Aviation Museum in Pensacola, Florida.
Photograph by:
Courtesy photo , Coulson Group of Companies
An aircraft that saved B.C. forests from wildfire for more than 50 years - including the 2003 fires in Kelowna - is headed for retirement in the U.S., where it's expected to become a star attraction at an aviation museum.
One of two Martin Mars aircraft, dubbed Philippine Mars, owned by the Coulson Group of Port Alberni, is heading south to its new role as a tourist attraction as the National Naval Aviation Museum in Pensacola, Florida.
In exchange, Wayne Coulson is hoping to get a C-130 Hercules aircraft or a variety of parts from that model. Coulson owns a C-130 Hercules based in Sacramento, California.
A second aircraft, Hawaii Mars, will remain in Port Alberni on contract to the province as a waterbomber.
The deal that sees the donation of the Philippine Mars to the museum has been in the works for a couple of years, said Coulson.
"The airplane hasn't flown in five years," said Coulson. "We're now convinced there is no niche market for it, and as the aircraft continues to deteriorate, we've had to come up with a plan for it."
The Pensacola museum was chosen because it's the largest naval museum in the world and the only Second World War aircraft it doesn't have on display is the Martin Mars, which served as a U.S. troop carrier.
The aircraft needed a paint job, so Coulson has elected to return it to its original colour of U.S. navy blue.
The Philippine Mars is getting ready for its final flight, which could happen in November, Coulson said.
"It's been a real honour and a privilege to own these aircraft, for everything that they stood for over the years between working for the military and on wildfires - they've done a wonderful job," he said.
"In B.C., both Mars have made in excess of 8,000 drops with their 52 years of history with the forest service. They are an icon in the province and they've certainly protected many lives and property over the years."
The National Naval Aviation Museum is the world's largest aviation museum, featuring 150 restored aircraft representing the U.S. navy, Marine Corps and coast guard.
smcculloch@timescolonist.com
We thought you might also be interested in..