Swine flu fears prompt hands-off approach at fair
Aug 24 2012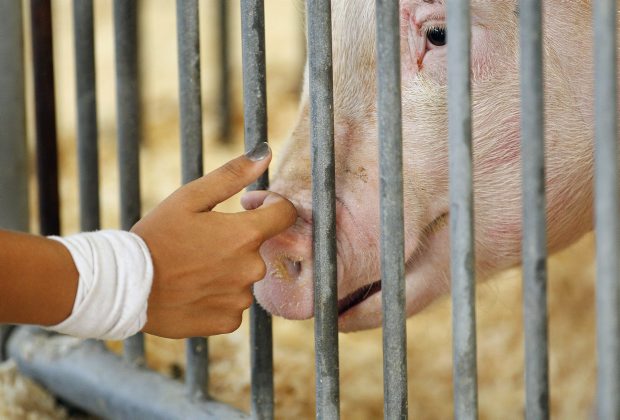 More than 200 people in the United States have become infected with the H3N2v flu strain. The outbreak has been linked to people touching pigs at fairs and petting zoos.
Photograph by:
Kyle Robertson , Columbus Dispatch
Health officials are suggesting that people keep away from pigs during the busy agriculture fair season to avoid a new strain of swine flu that has infected more than 200 people in the U.S.
"Because there has been an increase in the number of cases [in the U.S.], we're on the alert that we may see cases here in Canada," said Dr. Dee Hoyano, a medical health officer with the Vancouver Island Health Authority.
The influenza strain, identified as H3N2v, has not been detected in Canada, but it could be among the swine population already, according to a notice from Canada's Public Health Agency released this week. The outbreak has been linked to people - mostly children - handling pigs at fairs and petting zoos.
With at least four major agriculture fairs scheduled in the coming weeks - including the Saanich Fair, which sees 50,000 visitors - VIHA officials are warning the public to avoid direct contact with pigs or eat or drink around them.
"A lot of infections are transmitted from hands to mouths, and in those areas, with other bacteria around, it's an easy way for them to find their way into you," Hoyano said.
Fair organizers on Vancouver Island said they already have policies in place to reduce contact with animals.
George Baird is the president of the society that puts on the Cobble Hill Fair. He said all animals at Saturday's event would be fenced in and that food vendors are kept far from the barns.
"We tell people to take precautions when visiting," he said. "We've got a good setup in terms of keeping people safe."
Visitors to the Saanich Fair, scheduled for Aug. 2730, can visit the pig display, but they will not be able to pet the animals, said fair president Dave Hamer.
Both fairs have handwashing stations throughout the grounds to promote good hygiene and reduce the spread of bacteria.
Staff at the Beacon Hill Park Children's Farm say there is no need to warn people not to touch their three pigs, a popular attraction at the site.
"If you wash your hands after, these pigs have never been a problem before," said Aitana Handy, a staff member at the petting zoo.
Dr. Perry Kendall, B.C.'s provincial health officer, said there have been no reported deaths from the H3N2v flu strain, which doesn't spread easily.
"We don't have a large number of swine farms in B.C., but - I'm sure at some time, you'll see cases in Canada," he said.
Kendall said a substantial portion of young adults have an immunity to the H3N2v strain, but children under 14, particularly those under the age of five, have "very little resistance."
According to the Public Health Agency, young children, seniors, pregnant women, Aboriginal peoples and people with weakened immune systems are at higher risk of complications related to flu. Most people infected with H3N2v have only mild symptoms, including fever, cough, runny nose or congestion, sore throat, body aches, nausea, vomiting and diarrhea.
dspalding@timescolonist.com
We thought you might also be interested in..
Notice
: Undefined index: event in
/home/viccity/public_html/v2/content.php
on line
67