Four arrested in undercover drug sting
Aug 24 2012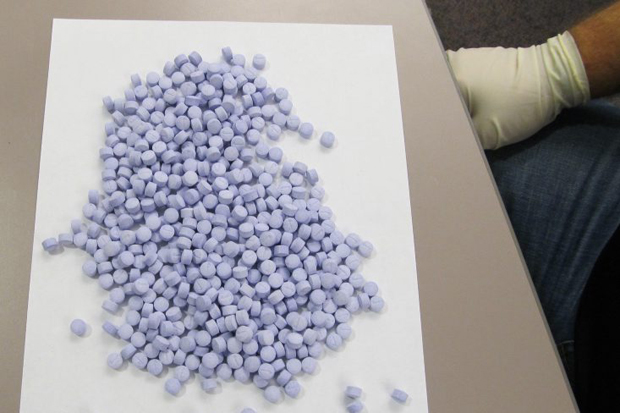 Victoria police bought 500 tabs of ecstacy — worth more than $10,000 on the street — in one transaction.
Photograph by:
Victoria Police
Victoria police have arrested four people after their first undercover purchase of the popular club drug ketamine, a response to a rise in young people using dangerous party drugs.
Dubbed King of Clubs, the undercover project was also spurred by ecstasy related deaths in B.C. and Alberta in late 2011, said Const. Harvey Stevenson, who led the three-month project.
Undercover officers with the strike force and street crime units bought ecstasy, ketamine and cocaine from four people who were dealing inside downtown nightclubs.
Stevenson said police were worried some of the ecstasy tablets were cut with other chemicals, particularly Paramethoxymethamphetamine (PMMA), traces of which were found in five of the 18 people who died in B.C. from ecstasy overdoses.
"Our primary concern was public safety and getting these potentially dangerous drugs off the street," Stevenson said.
In one transaction, officers bought 500 tabs of ecstasy with a street value of almost $10,000. Officers bought smaller amounts of ketamine, a first for Victoria police.
Ketamine, also known as Special K, has increased in popularity among young people and club-goers, Stevenson said.
"To me, it's the next epidemic drug," said Stevenson, who has been a drug investigator since 2004. An anesthetic used by veterinarians and surgeons, the drug is typically sold as a powder on the street to be snorted, mixed in drinks or smoked.
The operation took place in February, March and April but arrests only came last week because of the complex file.
Stevenson said the investigation was much more complicated than a typical hand-to-hand undercover drug deal on Pandora Avenue, with the buys done over several meetings to build a rapport.
"They say, 'We sell the fun drugs,' " Stevenson said of the dealers. "They see it as the party drug, but these drugs have real life consequences."
Damian Cownden, who owns Sugar and Touch nightclubs, said he provides extensive training for his bouncers and bartenders to prevent drug dealers from preying on his patrons.
"It's one of the highest priorities in our training," he said. Cownden said the Victoria Bar and Cabaret Association, to which many bars belong, has given bar owners a better relationship with Victoria police, who they can alert to illegal activity.
Facing several drugrelated trafficking charges are David Orchard, 36, Cheryl Weeks, 29, Christopher Cook, 42, and Sara Clough, 30. None of the four have a previous history with police. They were released from police custody until court dates in September.
kderosa@timescolonist.com
We thought you might also be interested in..