Woodwynn events pit chefs against KD
Aug 24 2012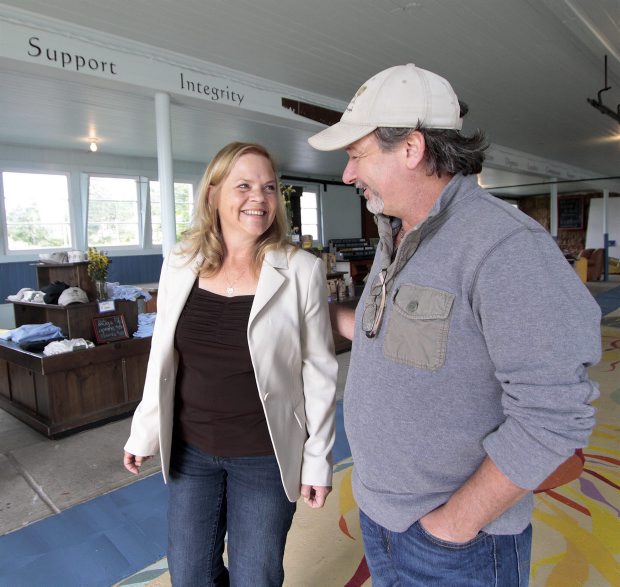 We Believe will allow the public to see the work that has been done on Woodwynn Farm, says event organizer Louise Chabros, with Creating Homefulness Society executive director Richard Leblanc.
Photograph by:
Lyle Stafford , timescolonist.com (June 2012)
Canada's favourite orange comfort food will be a major draw Saturday at Woodwynn Farm.
A Kraft Dinner cook-off featuring celebrity chefs going head to head with regular macaroni enthusiasts, will be a highlight of the first We Believe celebration and fundraiser at the farm.
Chefs will be allowed to add mystery ingredients to their KD and will be free to scavenge for herbs and other ingredients, said event organizer Louise Chabros.
For those whose mouths water at the thought of mac and cheese, bowls of the "signature Canadian delicacy" will be available by donation, Chabros said.
Live music, which will run from 10 a.m. to 6 p.m., includes performances by Daniel Lapp, Ashbury West and Nicola Linde.
Food vendors, a farm market, a hay-maze and lessons in geocaching will also be offered.
The only restrictions at the family-friendly event are no pets and no liquid, so the alcohol-free rule can be enforced. "Volunteers will be coming around with water, and hot and cold drinks will be available," Chabros said.
The event aims to raise at least $30,000 for operation of the farm, which the Creating Homefulness Society wants to turn into a therapeutic community for people who are homeless or recovering from addictions or mental illness. Organizers also hope to raise awareness and allow the public to see the work that has been done on the farm, Chabros said.
Woodwynn, a 78-hectare property at the corner of West Saanich Road and Mount Newton Cross Road, has been controversial since it was bought for the society more than three years ago.
The society would like to have more than 90 clients on the property, but the Agricultural Land Commission, on a recommendation from Central Saanich, turned down an application to build accommodation. A camp was set up in contravention of Central Saanich bylaws, and executive director Richard Leblanc is planning to apply for a temporary-use permit.
Tickets are $10 each or $20 for families. Kids under 13 are free.
For more information, go to woodwynnfarms.org.
jlavoie@timescolonist.com
We thought you might also be interested in..
Notice
: Undefined index: event in
/home/viccity/public_html/v2/content.php
on line
67