Couple's $100,000 bequest to finance rehab equipment
Aug 24 2012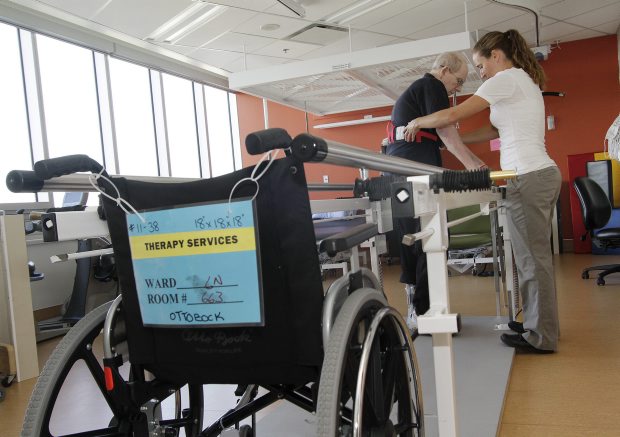 Royal Jubilee Hospital's Jennifer Norris assists rehab patient Andrew Blaney. A $100,000 gift to the hospital will help support rehabilitation equipment.
Photograph by:
Lyle Stafford , timescolonist.com (August 2012)
A Victoria couple's gift of $100,000 for equipment at Royal Jubilee Hospital is a fitting legacy for two lives well-lived, says a family friend.
Jim Brownrigg told a gathering at Jubilee's Patient Care Centre that Anna Evelyn Goodrick and John Thomas Goodrick loved being part of the Victoria community.
"They were a couple who lived a rich and full life," Brownrigg said Thursday.
He said the Goodricks were married for 75 years, and both lived to their mid90s.
Their donation has gone to the Building Care Together campaign, organized by the Victoria Hospitals Foundation to equip the 16-month-old Patient Care Centre.
Campaign co-chairman Ted Hughes said the money would be put to an important use.
"Their $100,000 gift is going to support rehabilitation equipment," Hughes said. "This specialized equipment benefits adult patients, many in their senior years, who are recovering from various illnesses and surgeries and injuries and the like."
The campaign goal is $25 million, and with the Goodricks' contribution, the total sits just shy of the halfway mark at $12,435,000.
Hughes said estate gifts like the one from the Goodricks are important to the campaign and to the work of the foundation.
"Often, we hear of bequests after the donor has passed away, but it's very touching to know that people have had us in mind and include us in their wills," he said.
"Contributions from estates make up one-third of our monies toward equipment purchases every year, because planned giving allows donors to give some of the largest gifts that they ever make."
Brownrigg said John was an aircraft mechanic during the Second World War, while Anna worked in an industrial sewing factory. After the war, they both worked at Eaton's in Winnipeg, where John continued in the mechanical field and Anna was an office manager.
The Goodricks loved to dance, Brownrigg said, and kept at it for most of their lives.
"In fact, at age 90, Anna was still delighting audiences and fellow seniors with her famous Spanish dance routine."
Brownrigg said he spoke about the Goodricks with mixed emotions.
"Although I am happy to be standing here today to honour the Goodricks' incredible contribution, I am also saddened to have lost two cherished members of our community, and my good friends," he said.
"But their legacy lives on, in the form of good health. Anna and John would be so pleased to know their gift will help hundreds of people now and in the future."
To donate, call the Victoria Hospitals Foundation at 250-519-1750 or go to buildingcare.ca.
jwbell@timescolonist.com
We thought you might also be interested in..