The secret to 100 happy years: Keep smiling
Aug 24 2012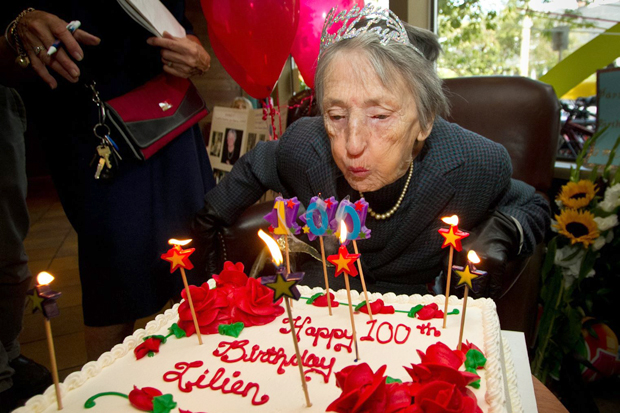 Lilien Davies celebrates her birthday at the Cook Street Village Starbucks, where she is a regular, on Thursday.
Photograph by:
Darren Stone , timescolonist.com (August 2012)
Seated in her favourite chair at her local coffee shop, Lilien Davies blew out the candles on her 100th birthday cake.
Davies is a regular at the Starbucks in Cook Street Village - just three blocks away from her apartment - where she goes almost every day to read the newspaper and chat with friends.
"Starbucks is my second home," Davies said in her loud, bright voice.
Davies started her daily coffeeshop habit in Duncan, where she lived with her husband, David Mould, and raised her daughter, Yvette.
She moved to Victoria in 1998 after the death of her husband, first frequenting the Oak Bay Starbucks before settling into the Cook Street Village café.
It was there that Davies, who was born deaf, met Gillian Ley three years ago. The two formed a bond after realizing that Davies and one of Ley's relatives both came from the island of Jersey, located in the English Channel.
"We all know her, love her. She is a huge part of my life," Ley said. "She's very independent, dresses impeccably and is a financial whiz" - an assessment backed up by both her career as a financial planner and the business section that sits next to her coffee.
The stock market came naturally to her, said Jane Turpie, Davies' main caretaker. The two women met through Turpie's late husband, Ian Turpie.
Davies moved to Peru in 1938 as a governess to the Turpie family. While there, she met and married her husband and gave birth to her daughter.
The family moved to Vancouver Island in 1949.
Turpie has become like family to Davies - especially after Yvette's death from cancer in 2010.
"I've taken over the daughter role," Turpie said. "My family is her family."
Asked what the secret to a happy life is, Davies said: "I never complain. If you're handicapped, like me, never let people know. Keep smiling."
mkaralis@timescolonist.com
We thought you might also be interested in..
Notice
: Undefined index: event in
/home/viccity/public_html/v2/content.php
on line
67