B.C. Transit adding buses to busy UVic, Camosun routes
Aug 25 2012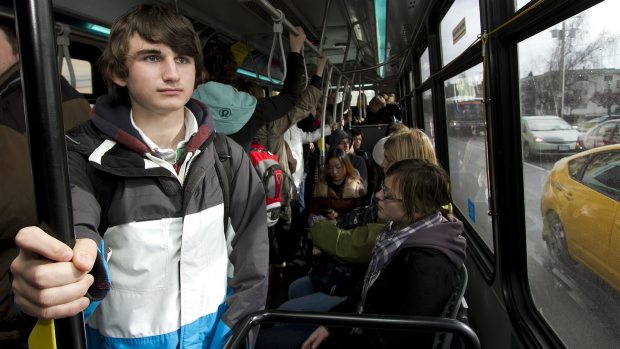 University of Victoria computer science student Dallas Cox rides a B.C. Transit bus in Victoria on Feb. 29, 2012.
Photograph by:
ADRIAN LAM , timescolonist.com (August 2012)
Extra buses will be put on high-demand routes serving the University of Victoria and Camosun College next month to try to reduce the number of people who get left behind as the busy back-to-school season begins.
B.C. Transit is reinstating 7,000 service hours that were cut, with 5,000 hours of regular transit service targeted for high-demand routes and 2,000 hours for improved handyDART service.
The additional 5,000 hours will target the system's most populated routes 4 UVic/Hillside, 11 UVic/Tillicum, 14 Vic General/UVic via Richmond, 21 Interurban, 25 Maplewood/Admirals Walk and 26 Dockyard/UVic.
In addition to extra runs Monday through Friday, Transit plans to place overload buses in strategic locations to respond when buses reach capacity in the middle of a run.
"We want to make sure that everything we have we can throw at it [pass-ups] to really see if we can get this very, very frustrating and annoying aspect of school starting [dealt with]," said Susan Brice, chairwoman of Victoria Regional Transit.
"There will still undoubtedly be some pass-ups. It's just the nature of the number of people trying to access the system. But within the first few weeks of school, things do shake down but staff and the commission have put this as a high priority," Brice said.
"This is the first year that we've felt we've had the data to really try to track down this issue of the pass-ups, particularly for those first few weeks of school."
The changes won't eliminate pass-ups entirely but they should "go a long way" to address high demands for service during the peak fall service, said Manuel Achadinha, B.C. Transit president and CEO.
UVic and Camosun students lobbied hard last year for changes to address the problem of pass-ups — even launching a campaign in the hope of persuading the province to allocate more carbon-tax dollars to transit.
They have a compelling argument. Students contribute about $4.8 million to transit through the mandatory U-Pass program, making them major customers of the system.
"They're paying a U-Pass and have every right to feel that the service is there for them. So we're going to see if we can make it better," Brice said. The total cost of the restored hours of service is $506,000, she said.
She said some of the service time was found in under-performing routes during the summer.
"I think the staff have really analyzed where the routes over the summer months didn't need as many vehicles as they had out there. So they held back operational hours so they can hopefully really target, particularly the beginning and end of the school day," she said.
bcleverley@timecolonist.com
We thought you might also be interested in..