UVic aerospace centre receives more than $670,000 in federal funding
Aug 25 2012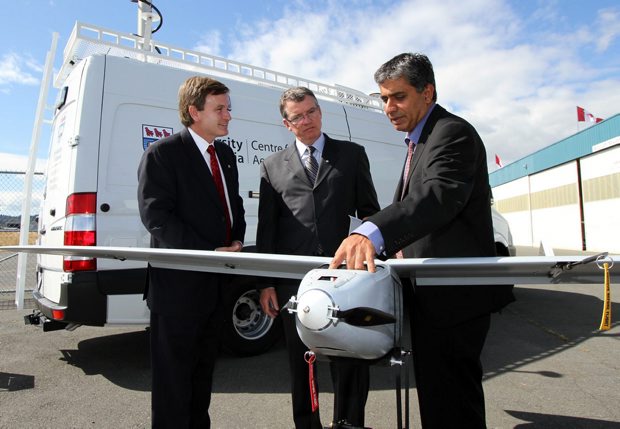 The Federal government is announcing funding for UVic's . North Vancouver MP David Saxton, left, University of Victoria president David Turpin and Prof. Afzal Suleman look at an unmanned aerial vehicle at a funding announcement for UVic's Centre fro Aerospace Research on Aug. 23, 2012.
Photograph by:
BRUCE STOTESBURY , timescolonist.com (August 2012)
An unmanned aerial vehicle could be checking on the health of farmers' crops, tracking wildlife poachers or helping in search-and-rescue efforts in just two years.
Afzal Suleman, director of the University of Victoria's new Centre for Aerospace Research, hopes to have commercial UAVs ready in two years thanks to funding announced Friday.
Andrew Saxton, the Conservative MP for North Vancouver, announced $671,500 from the federal western economic diversification department for the three-week-old Centre for Aerospace Research .
"Over the past decade, unmanned air vehicles and unmanned air systems, as either military tools or hobby toys have shown tremendous commercial potential," Saxton said at the centre. "They can provide a cost-effective solution for tasks that are repetitive, hazardous or that need to be performed on short notice."
Suleman, an aerospace engineer, noticed a need in his area of specialty when he moved to Victoria in 1999. Along with Jenner Richards, a PhD student, Suleman has been working with mechanical engineering students who are interested in the aerospace field, as the university doesn't have an aerospace-specific program.
Thirteen years later, Suleman is leading the university's new Centre for Aerospace Research, adjacent to Victoria airport.
The centre will focus on designing safe and affordable devices that have practical applications.
"What we want to do is to fill the void in between things that people can't afford and the military won't sell, and the things that don't really work and are more do-it-yourself," said Richards, the centre's manager. "We want to fill that void, which is the commercial sector."
Some of the prototypes' wingspans range from 50 centimetres to three metres and others have rotating wings, known as quadcopters.
From tracking wildlife poachers in the north to scanning for pods of whales in the morning for whale-watching companies, Suleman said the devices have endless practical uses.
"The real, big challenge is it has to be operable to someone with very little experience — like if we sold this to the RCMP, they have to be able to fly it," Richards said.
mkaralis@timescolonist.com
We thought you might also be interested in..
Notice
: Undefined index: event in
/home/viccity/public_html/v2/content.php
on line
67