Pipeline foes face off via online videos
Aug 26 2012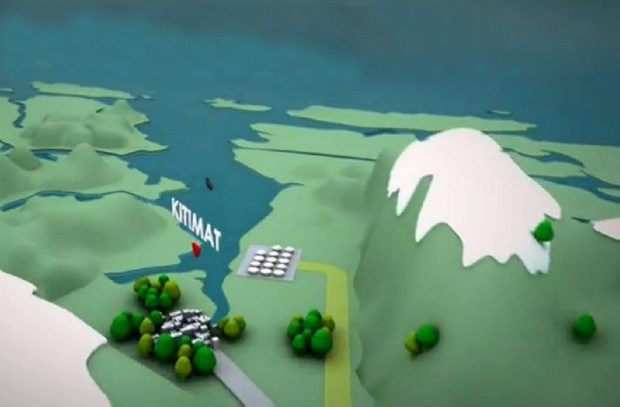 Enbridge's video — which omitted island in Douglas Channel — has sparked criticism from opponents of the proposed Northern Gateway pipeline to Kitimat.
Photograph by:
Enbridge Inc.
Videos are the latest weapon in ongoing wrangles over the proposed Enbridge Northern Gateway pipeline.
Hot on the heels of outcry over an Enbridge animated video that omitted 1,000 square kilometres of islands from Douglas Channel, a videographer has produced a video titled This Is Not an Enbridge Animation, which has drawn more than 40,000 views since being posted a week ago.
The video was created by Dave Shortt, a supporter of Dogwood Initiative, a public interest group opposed to Northern Gateway, and shows dramatic nature scenes from along the planned pipeline route.
"I think a lot of British Columbians live here because of the environment and how beautiful it is," Shortt said.
"To think we would risk that in any way so a company can make more money doesn't make sense to me."
Shortt said he was surprised at the amount of attention the video was attracting.
Images of spawning salmon, frogs and dragonflies are interspersed with scenic shots giving the distance along the pipeline route.
When the video reaches Kitimat, the port where the pipeline would end, the caption reads "Yes, these islands are real too," and concludes with "Let's get real about what's at risk."
The video then links to Dogwood Initiative's notankers.ca petition.
"That has resulted in 2,400 new signatures on the petition in the last two days," said Emma Gilchrist, a Dogwood spokeswoman.
The petition has more than 130,000 signatures.
The Enbridge video, posted on its website, includes a disclaimer saying it is "broadly representational."
Opponents of the pipeline accused Enbridge of trying to mislead the public with the video, but the company said the video, with stylized trees and sketches of snow-capped mountains, was an obvious animation.
Enbridge spokesman Todd Nogier said the video was "illustrative purposes only," and "meant to illustrate the pipeline route, not the marine aspects of the operation."
The proposed pipeline, which would carry bitumen from the Alberta oilsands to Kitimat, from where it would be shipped by supertanker to Asian markets, is under environmental review by a joint federal panel.
jlavoie@timescolonist.com
We thought you might also be interested in..
Notice
: Undefined index: event in
/home/viccity/public_html/v2/content.php
on line
67