High-tech cameras new route to training B.C. Transit drivers
Aug 26 2012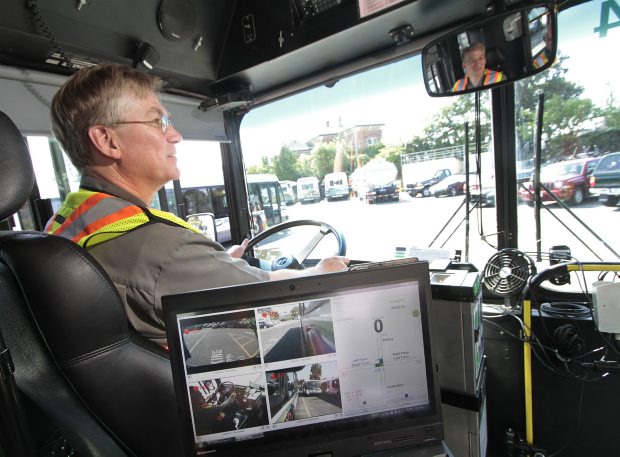 Times Colonist reporter Richard Watts prepares to drive a B.C. Transit bus under the watchful eye of several cameras.
Photograph by:
Lyle Stafford , timescolonist.com (August 2012)
It's as if B.C. Transit had me in mind when the decision was made to install its Vigil system to train and evaluate its drivers.
I'm the kind of driver who gets nervous when called upon to parallel park a Fiat. For me, mounting the sidewalk is a good way to get close enough to the curb. And no parking stall can ever be too wide or too far from other automobiles.
So the $40,000 computerized Vigil system, newly purchased by B.C. Transit in Victoria with its little computerized cameras looking left, right and straight ahead, is perfect pour moi.
It even keeps a focus on the driver, making sure all those (for me) frequent little omissions, such as shoulder checks, don't go unnoticed.
Even so, when B.C. Transit offered me a chance to drive one of its buses, I warned them, sort of. I didn't quite spell it out. But really, they were talking to a man who can put a dent in the fender of a tank while driving across Saskatchewan. And that would be southern Saskatchewan, the really flat part.
Not to worry, I was told. The Vigil system and B.C. Transit trainers would be alongside to make sure I did not get into any trouble. (Although I took note when B.C. Transit spokeswoman Meribeth Burton and Times Colonist photographer Lyle Stafford fled the bus before I took it rolling, pleading "insurance reasons.")
According to John Palmer, B.C. Transit director of safety and environment, the system can track a bus's location at all times with GPS. On-board technology can assess the driver's use of the brake pedal and accelerator and the smoothness of the ride.
It provides a completely objective, not to mention irrefutable, recorded review of a new or experienced driver's behaviour during a run.
Palmer said the plan is for all of B.C. Transit's 560 drivers in Greater Victoria to eventually take the Vigil system on board at least once a year. Drivers have already been told about the system, and know it's not intended to gather evidence to support disciplinary action.
"It's a system designed to change behaviour," Palmer said. "It's not a disciplinary tool."
As for me, it reproduced a perfect record of my two excursions around the ovoid/rectangle of B.C. Transit's parking lot at 520 Gorge Rd.
For turning, I didn't perform too badly, once I was instructed about what it meant to drive a behemoth with the front wheels positioned behind the driver's seat. It means you have to take the nose far out into an intersection before beginning a turn. That's why buses seem to take up so much room when going around corners.
But if braking and accelerating are graded, I probably failed.
B.C. Transit instructor and Vigil operator Scott Crinson hinted as much. It seems my drive was recorded on the computer file of a real B.C. Transit trainee. After I was done, Crinson went to great pains to explain it absolutely had to be deleted, lest it somehow show up on the unsuspecting trainee's permanent record.
Truth is, I touched the accelerator pedal only once at the urging of instructor Terry Krenbrink, who was perhaps becoming concerned about the vehicle's brake pads.
As a matter of fact, I think I deserve an A for braking, since I rarely took my foot off it. With buses, the brakes are air brakes, functioning on air pressure instead of hydraulic pressure, as in a car.
So there is no sensing pressure to the foot when a driver applies the brake. The only way the driver can feel braking action is by the response of the entire bus.
So let's just say I steered that bus through a series of jerky stop-starts around the parking lot. But hey, no crashes, no dents, no problems.
rwatts@timescolonist.com
We thought you might also be interested in..