$10,000 donation 'poignant' for Woodwynn Farms
Aug 26 2012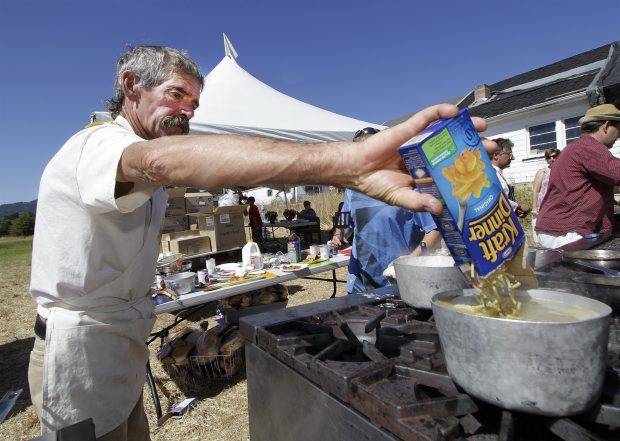 Cook Tim Summers with his special ingredient during the Kraft Dinner cook-off at Woodwynn Farms fundraiser, We Believe, on Saturday.
Photograph by:
LYLE STAFFORD , TIMES COLONIST
Woodwynn Farms received an unexpected donation of $10,000 on Saturday during the first "We Believe" fundraiser. The money will be used to help recovering addicts, homeless people and those suffering from mental illness who live and work at the therapeutic farm.
"It was a poignant moment," said Richard Leblanc, executive director of Woodwynn's Creating Homefulness Society.
He added that the donor family wishes to remain anonymous.
"I opened the envelope up," Leblanc said. "It's one of the only times I've been truly speechless."
He said when he looked up to thank the family — whom he has known for two years — it was an emotional scene.
"They all had tears streaming down their faces," Leblanc said.
The money will provide food, clothes and working supplies for residents of the farm, located on a 78-hectare property at the corner of West Saanich Road and Mount Newton Cross Road. Currently there are nine people on site and two people in treatment for detoxification at Royal Jubilee Hospital, Leblanc said.
"We're seeing neat results," he said, adding that the facility prohibits alcohol and drug use. "In those tough moments, they have that support."
Leblanc said current program participants are working on day-to-day farm operations and have their "vitality returning."
Woodwynn Farms has been controversial since its creation. Leblanc's goal is to house more than 90 people on the property, though this would require that one hectare of land be rezoned. Leblanc's request was opposed by Central Saanich council and then rejected by the Agricultural Land Commission. In response a camp was set up in contravention of Central Saanich bylaws and Leblanc is now applying for a temporary-use permit.
"We've had no negative reactions," Leblanc said of Saturday's event. He added that there was a target fundraising goal of $30,000.
Police were invited to the event and were present throughout the day.
"Officers said they had no complaints about the event. You can't hear anything on the road," he said.
Live music was played all day but the stage faced inward so as not to disturb neighbours, he said.
Leblanc estimated that at least 700 people turned out for the farm's fundraiser, which included food, face-painting for children and entertainment. A Kraft Dinner cook-off awarded Woodwynn's own Tim Summers the title of best Kraft Dinner chef. The competition allowed chefs to add secret ingredients to their macaroni.
Leblanc said he's appreciative of the community support and has noticed that it continues to grow.
A group of family members who have loved ones struggling with addiction, homelessness or mental illness was formed in June as a Woodwynn Farms partner. Organizer Louise Chabros said the group, dubbed Close to Home, is registering as a non-profit organization and helped co-ordinate the fundraiser. Next year's date for what is planned to be an annual event, she said, is set for Aug. 24, 2013.
"I'm very pleased with the feedback from people in attendance," she said. "Our goal is to enhance the community."
She added that it's important for Woodwynn to maintain year-round support.
"Woodwynn is here 365 days a year," she said.
cclancy@timescolonist.com
We thought you might also be interested in..