Centennial Square turns back clock to 1862
Aug 27 2012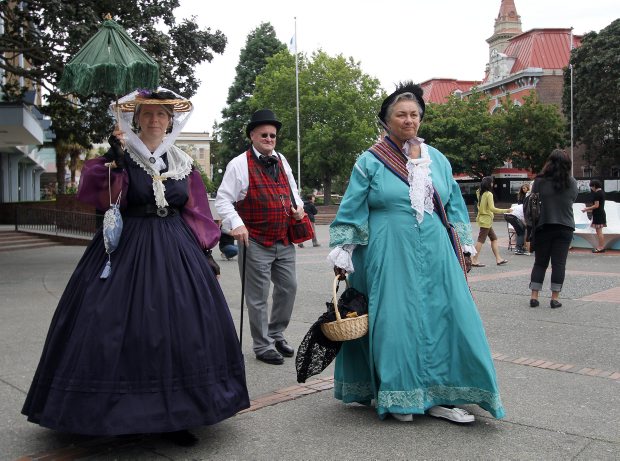 Lynda Witham, left, Mark and Fern Perkins take part in the Community Arts Council of Greater Victoria's afternoon of songs, dances and games from Victoria's past Sunday at Centennial Square.
Photograph by:
Adrian Lam , timescolonist.com
Centennial Square travelled back in time Sunday as the Community Arts Council of Greater Victoria hosted an 1862-style Sunday afternoon.
With songs, speakers and games, the event was intended to connect the public to Victoria's 150th anniversary.
Fern and Mark Perkins came to celebrate their own heritage, which is linked to the city's past.
Married for 41 years, the couple only recently found they both have ancestors going back 150 years who worked together.
Fern Perkins was dressed as her distant relative Isabella, who was married to Charles Ross, the chief trader in charge of building Fort Victoria in 1843. Along with her long. formal dress, she was wearing a Metis sash to honour her own Metis heritage.
Ross became the first woman landowner in B.C. when she bought Ross Bay Farm, which is Ross Bay Cemetery now.
Mark Perkins was dressed as his relative Peter Skene Ogden, complete with a plaid vest and top hat.
"We go back five generations. Peter Skene was the chief factor with the Hudson's Bay Co. Fern's three-times great-grandfather Charles was a chief trader with HBC, and they were colleagues five generations ago," Mark Perkins said.
"We didn't know anything about this. Just discovered this three or four years ago," Fern Perkins said with a laugh.
Lynda Witham created her own outfit that she uses as part of Pioneer Players, a group that represents historical figures of Victoria's past.
Even those in 2012 clothes could go back in time by playing games like ring toss, hopscotch and blowing bubbles.
There were live music and sing-alongs as well.
mkaralis@timescolonist.com
We thought you might also be interested in..