Navy celebrates Oriole's 60 years as 'an institution'
Aug 29 2012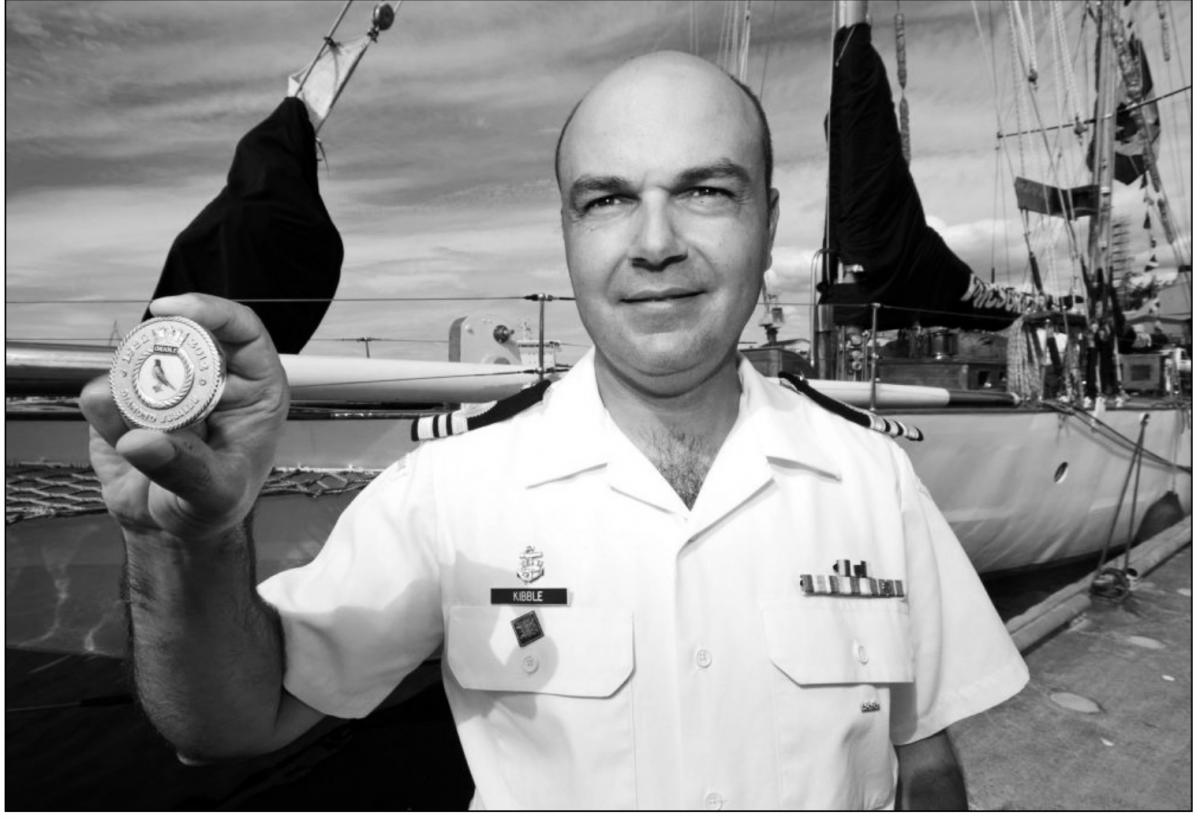 Lt.-Cmdr. Jeff Kibble shows the special-edition commemorative coin cast with the ship's original brass to celebrate the Diamond Jubilee of HMCS Oriole.
Photograph by:
Darren Stone, Times Colonist , Times Colonist
HMCS Oriole isn't going to retire any time soon. The navy's oldest ship, built in 1921, was honoured Tuesday for 60 years of service.
"She's good for another 91 years," said Lt.-Cmdr. Jeff Kibble.
The ship underwent major renovations this year when its entire hull was rebuilt.
"She has a steel hull now," Kibble said.
HMCS Oriole, stationed at CFB Esquimalt, was taken for a day sail in celebration of its Diamond Jubilee. As a memento of the ship's milestone, 250 coins were forged using brass from the original hull.
Kibble said the ship has been a training vessel for many young sailors. Teamwork and leadership skills are among the lessons learned aboard Oriole, he said.
"She really is an institution."
Esquimalt resident Joe Buczkowski served in the navy for 26 years and remembers his time aboard Oriole.
"It was the camaraderie; everybody has to work together," he said.
Buczkowski, dressed in his old uniform, said he served aboard the ship for two months in 1970.
"I'm still surprised the ship is afloat," he said with a laugh.
For Tawny Maclachlan Capon, HMCS Oriole is part of her family history. She's the great-granddaughter of George Horace Gooderham, the ship's builder and first owner.
"I do remember my grandmother telling me what fun it was to go out sailing on the Oriole," Capen said, adding that things have changed substantially since then. "She would be happy to know men and women of the Canadian navy all stand on the deck together."
For Capen, HMCS Oriole is where it should be, "healthy and busy and continues to serve, but most of all sails with all her soul." cclancy@timescolonist.com
We thought you might also be interested in..
Notice
: Undefined index: event in
/home/viccity/public_html/v2/content.php
on line
67