Three more Liberal MLAs announce retirement
Aug 31 2012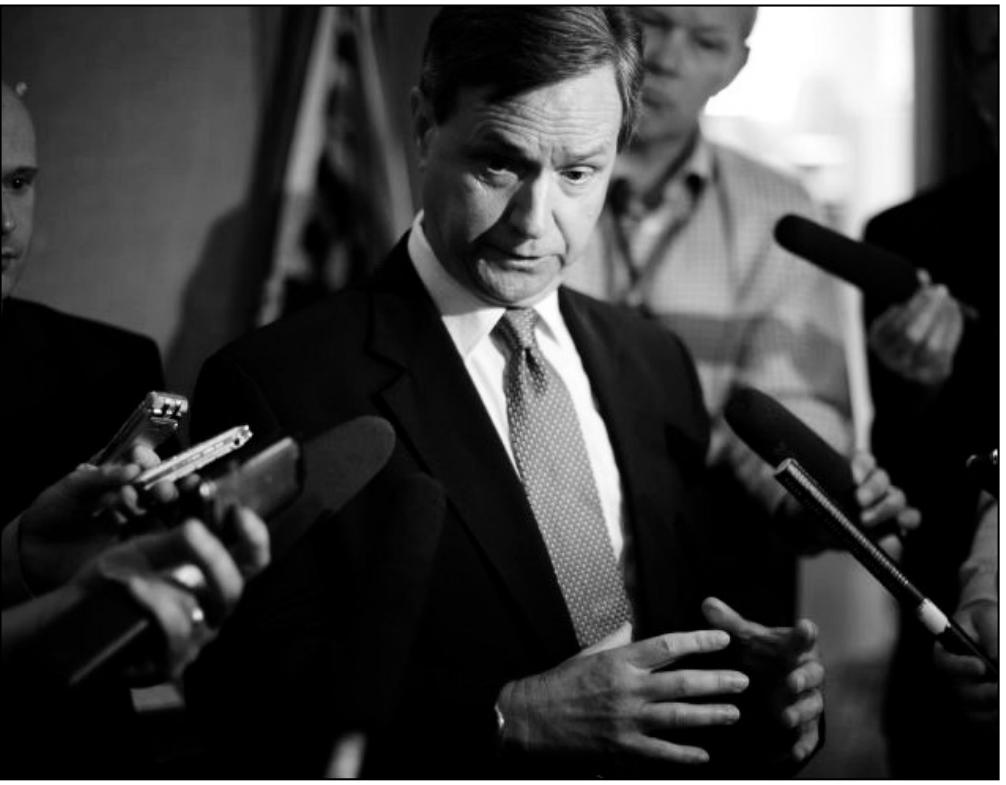 Liberal MLA and Minister of Education George Abbott announces his resignation from politics at the B.C. legislature on Thursday.
Photograph by:
Chad Hipolito, The Canadian Press , Times Colonist
Premier Christy Clark lost two more high-profile cabinet ministers Thursday as Education Minister George Abbott and Children's Minister Mary McNeil confirmed they would not seek re-election in May.
The pair joined Chilliwack MLA John Les, parliamentary secretary to the premier, who announced his retirement earlier in the day.
Neither Abbott nor McNeil resigned from their ministries, and they will continue to sit as the MLAs for Shuswap and VancouverFalse Creek, respectively, until the next election.
But Clark has already signaled that she plans to shuffle her cabinet next week and Abbott, 59, said he expects to move to the backbenches.
"That cabinet will be comprised of MLAs who are committed to running in 2013," he said. "That's exactly the right thing to do, and that's what I would have done, as well."
The trio of retirements followed that of Finance Minister Kevin Falcon, who resigned Wednesday. His wife is expecting their second child in February.
Abbott, who is known for his dry sense of humour, made joking reference to that Thursday.
"I do first want to put to rest the rumours that my wife and I are expecting another baby," he said. "I can reconfirm that my child-bearing years are over."
Abbott said his retirement had more do with the fact that he is ready for a change after 33 years in local and provincial governments.
"I'm still excited about public policy," he said. "I'm less excited though about politics."
A former legislative intern, Abbott was first elected to the B.C. legislature in 1996 and joined cabinet immediately after the Liberals took power in 2001.
He has served as minister in the health; aboriginal relations and reconciliation; community, aboriginal and women's services; and sustainable resource management portfolios.
Abbott acknowledged that he would have run again had he defeated Clark in last year's Liberal leadership race.
"I would not be here, taking this step, were I to have the extraordinary opportunity to be premier, but history didn't work out that way for me, so one gets to do some other things," he said.
Nor does he have any plans to return in the future. "For me, never is never. I've had a great run politically, but I've exhausted that part of my life."
A former college instructor, Abbott said he plans to live in Victoria and pursue work in public policy.
Clark has downplayed the loss of veteran cabinet ministers like Abbott and Falcon, saying it gives her government a chance to renew itself in advance of the election. She also noted that previous Liberal governments have won elections despite key retirements.
To date, 10 sitting Liberal MLAs have indicated they would not seek re-election. Two others - Iain Black and Barry Penner - departed last year, triggering byelections that the Liberals lost to the NDP. John van Dongen, a former solicitor general, jumped to the upstart B.C. Conservative Party earlier this year.
Despite those departures and the government's sagging popularity, Abbott refused to rule out Clark's chances in the next election.
"She is a remarkable campaigner, a remarkable communicator," he said. "She has, I think, an opportunity because of those assets to turn this around."
But NDP leader Adrian Dix said "what British Columbia needs is a better government, not a better campaigner."
Dix said the Liberals had lost their way since the 2009 election, and that the government's principal legislative achievement remains the HST, which was withdrawn in the face of public pressure.
"The challenge for them is that, since the 2009 election, they haven't delivered on what people expected from them and they seem to be out of gas," he said.
Dix contrasted that with his team, which he said is united and strong. Clark's former rivals for the Liberal leadership have decided to leave politics, but Dix noted that his rivals - John Horgan and Mike Farnworth - plan to run again.
"There is traditionally in election campaigns an advantage for the government at the candidate level because they have cabinet ministers and they're better known," he said. "I think clearly the team that's strong is the NDP team, and I think our message of positive politics is resonating." lkines@timescolonist.com
We thought you might also be interested in..
Notice
: Undefined index: event in
/home/viccity/public_html/v2/content.php
on line
67