Vancouver group opposes proposal for Robson Street pedestrian mall
Aug 31 2012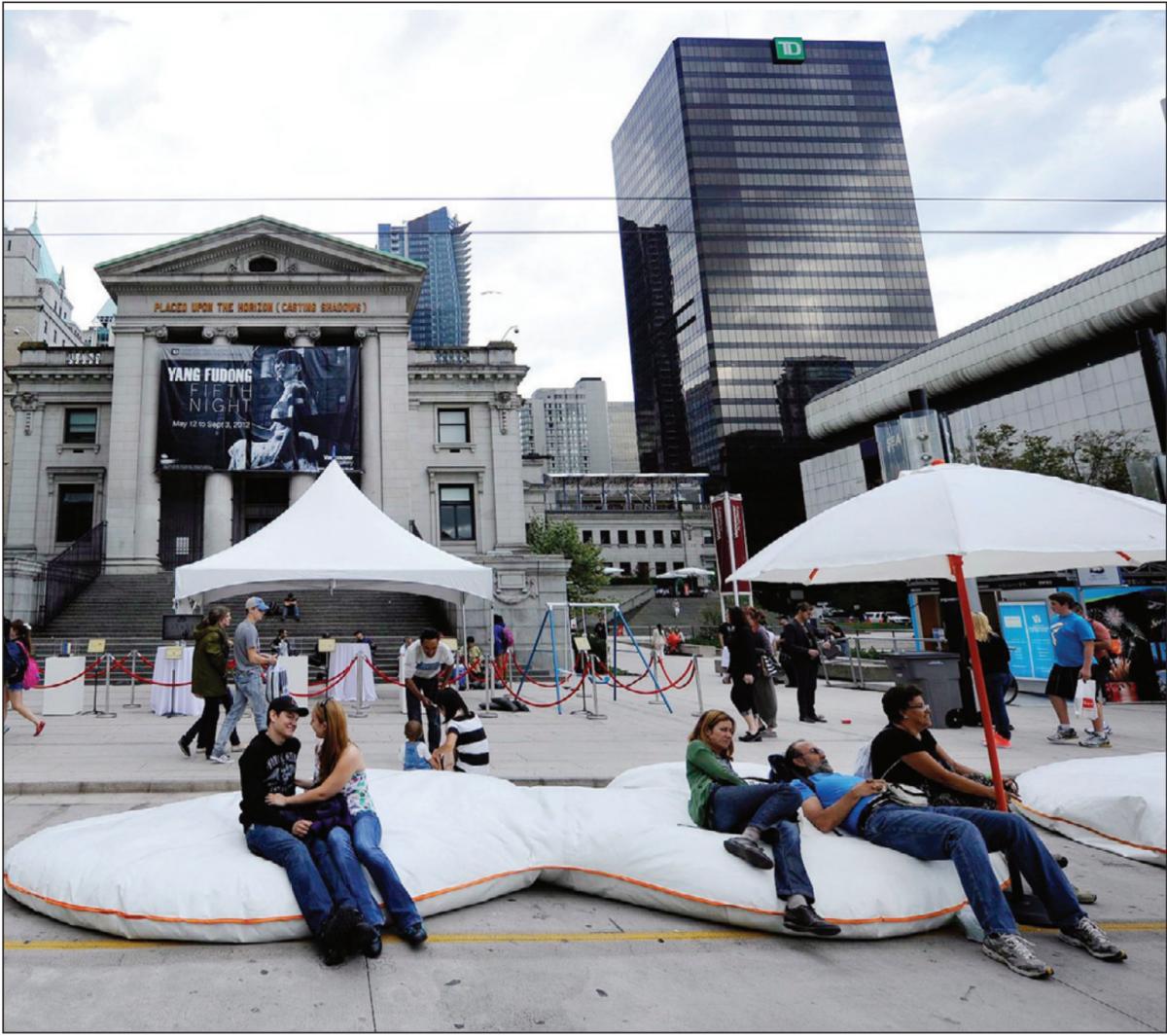 Passersby rest on the large beanbag-style seats in the 800 block of Robson street.
Photograph by:
Mark Van Manen, Postmedia News , Vancouver Sun
Street closures in the downtown core should be seasonal and temporary, says the executive director of the Downtown Vancouver Business Improvement Association.
Charles Gauthier said closing off roads for events that attract crowds like the jazz festival makes sense, but he doesn't see any merit in making streets such as Robson permanent pedestrian malls.
"We think a big problem is our weather. We are not a Southern California climate that will encourage people to hang around outside," he said.
"We shouldn't be closing the streets just for the sake of closing them."
On Wednesday, the city announced that the 800 block of Robson Street, between Hornby and Howe, will remain closed to automobile traffic until the end of the year.
The block, which became popular during the 2010 Winter Olympics, has been closed this summer for the VIVA Vancouver Pop Rocks seating installation, which features large, white beanbag-style seats and sun umbrellas. The seats were made using recycled material from the old sails on the Canada Place roof.
The city said that block of Robson Street could become a permanent pedestrian mall, and will vote on a report from staff this fall.
Gauthier said members of the downtown business group are upset that the city made the announcement without involving the association, and he's urging members to petition the city for further consultation.
Traffic congestion and difficulty delivering products to local businesses were two of the problems Gauthier identified in argu-ing against making the area a permanent pedestrian mall.
Gauthier said further discussion should focus on making better use of the public space on the other side of the Vancouver Art Gallery, facing Georgia Street.
"It's a significant amount of space - more than at Howe and Hornby. So let's have a discussion about that rather than closing a street that has a function in the downtown core."
Mayor Gregor Robertson said feedback from the public, TransLink and local business owners will be considered before going ahead with a permanent closure of Robson Street.
He praised the success of the summer street closure, saying that Robson has proven to be a hub of activity. Robertson said there is an opportunity to create "an important new public plaza" in the centre of downtown.
We thought you might also be interested in..
Notice
: Undefined index: event in
/home/viccity/public_html/v2/content.php
on line
67