Extra judges not needed, Cowper says
Sep 02 2012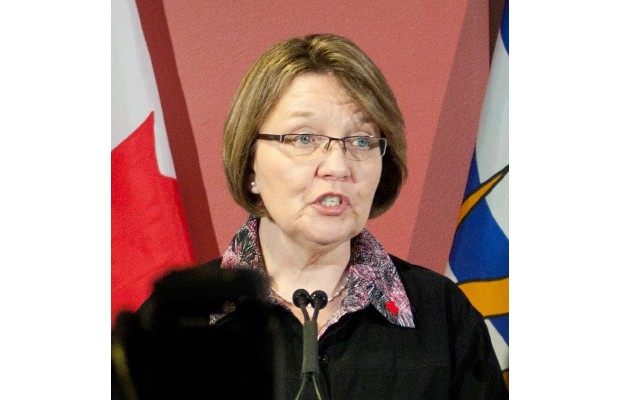 Attorney General Shirley Bond said she agreed the issue of the number of judges had to be dealt with in a different way.
Photograph by:
Darren Stone , timescolonist.com (May 2012)
B.C. should have enough provincial court judges to address court backlogs and ensure public confidence in the justice system, Vancouver lawyer Geoffrey Cowper said Thursday in a 270-page review of the system.
But Cowper does not agree with the B.C. Provincial Court that the number of judges necessary to deal with new cases entering the system should be the same as it was in 2005.
In 2010, the court published Justice Delayed, a report asking that the number of judges - referred to as the judicial complement - be increased from 126 to 143, the number of judges in 2005.
The number of cases entering the system has declined from 103,363 in 2006-06 to 91,389 in 2011-12, noted Cowper.
"That is a significant decrease in overall workload," he writes. "Although there are fewer judges now, there are actually more judges per new case than in 2005."
If the trend continues, the court has enough judges to reduce the backlog and eventually set matters down for trial in an acceptable time, he says in his report, entitled A Criminal Justice System for the 21st Century.
At a press conference Thursday in Vancouver, Attorney General Shirley Bond agreed the issue of the number of judges has to be dealt with in a different way.
"It's simply not enough to say, 'We had this many, so we want to have that many moving forward,' " Bond said. "One of the recommendations is to look at a formula that actually looks at what is a legitimate need for additional judges in the system."
On Thursday, the Chief Justice of British Columbia, the Chief Justice of the Supreme Court and the Chief Justice of the Provincial Court issued a brief statement saying they had received Cowper's report and would consider further comment upon review.
Cowper recommends providing a specific number of judges, subject to review every three to five years. To determine how many are needed, the court should consider whether judges are working to their
REPORT HIGHLIGHTS
Recommendations from A Criminal Justice System for the 21st Century include:
- Development of crimereduction and diversion plans
- Provide for a specific number of judges, subject to review every three to five years
- Establish a voluntary Advisory Committee on Judicial Administration
- Expanded funding for restorative justice programs should be made available
- Victims should receive online exit surveys after the resolution of a complaint
- The new Provincial Office of Domestic Violence, working with the council, should prepare a plan to reduce domestic violence
full capacity, trends in their workload and regional and special needs, he says.
Judges sit in court 90 per cent of days they are scheduled to, but some days entire caseloads collapse.
"In consultation with members of the Bar, I was told that although judges sit on their scheduled days, such sittings are too often limited to the morning session, with many courtrooms empty for substantial parts of the day," Cowper writes.
It's important to measure actual sitting hours, he says. If provincial court judges are not sitting 4.5 hours a day, then they are not being used to full capacity.
The court should consider whether judicial justices or other court staff could perform some of the work done by judges, such as presiding over preliminary hearings. Another recommendation is reducing the number of administrative appearances. For example, adjournments could be made at the registry instead of the courtroom.
ldickson@timescolonist.com
We thought you might also be interested in..