Motorcyclists demand improved safety on Malahat
Nov 07 2011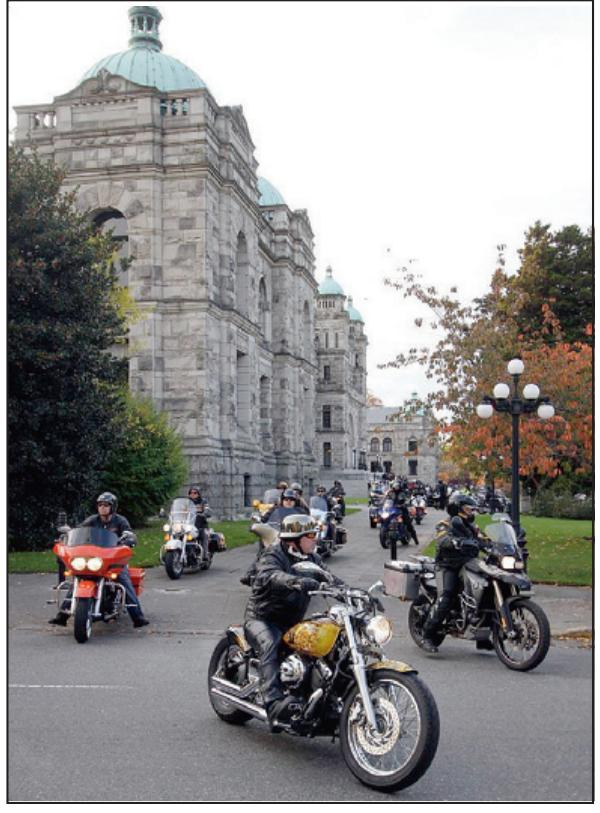 Motorcyclists at the legislature.
Photograph by:
Adrian Lam, Times Colonist, Times Colonist
Calling for more cement barriers on a deadly stretch of the Malahat, motorcyclists converged on the B.C. legislature Saturday to send their message to politicians.
The Riders for Safety rally came in response to the death of Colin Grant, 54, an avid motorcyclist and high-ranking officer with the Canadian Forces. He died last weekend when the driver of a PT Cruiser veered into oncoming traffic and struck him head-on.
An estimated 400 people rode bikes through Victoria streets starting at Ogden Point and delivered their message that barriers are needed between Goldstream and Mill Bay. With three head-on collisions in the past month, Malahat fire chief Rob Patterson said there is at least a need to start with barriers in high-crash zones.
There have been 14 fatalities on the Malahat since 2000, including two motorcyclists since July.
"If we had divided highways, where this happens on a regular basis, I truly believe we could save lives, we could redirect traffic and keep that vital link open," Patterson said. Transportation Minister Blair Lekstrom said officials are reviewing the need for more barriers. Much to the crowd's disappointment on Saturday, though, not a single MLA attended the rally.
David Rogers, one of the Vancouver Island Safety Council alumni who organized the event, called on the crowd to demand improvements from government.
"I'd hoped to have a politician or two to speak to you," he said in his speech. "I would like to know where the MLAs are because what we've got here, ladies and gentlemen, is a whole bunch of voters."
Investigators in Grant's accident say the driver of the PT was not speeding or under the influence of alcohol or drugs, but a medical issue may have contributed to the crash. No further information has been released.
Barriers will not eliminate accidents, but they would go a long way to saving lives, said Patterson.
His team could likely keep at least one lane of traffic open as well, if responders were protected by a barrier, he said. dspalding@timescolonist.com
We thought you might also be interested in..