Shutdown of Occupy Victoria protest imminent
Nov 07 2011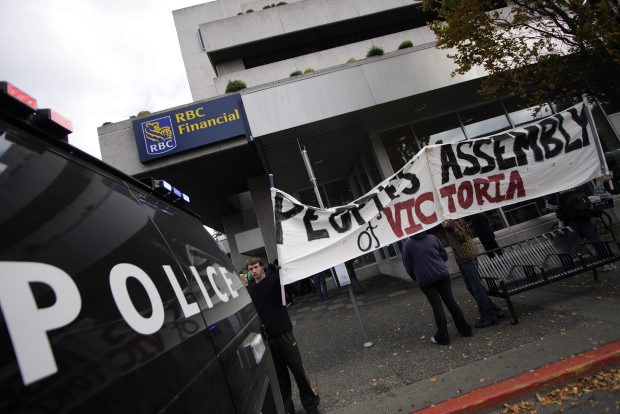 Occupy Victoria march on the banks in Victoria, B.C. November 5, 2011.
Photograph by:
Lyle Stafford, timescolonist.com
Victoria's mayor said Saturday the city is planning an imminent shutdown of the Occupy encampment in Centennial Square, saying it's reached an unsafe level that is no longer serving its intended goal.
"I think we're coming to a place where more and more, much like Vancouver, we're getting concerned about the safety issues," Dean Fortin said.
"There's an increasing level of drug activity and a criminal element moving in. The disorder is extremely concerning."
Fortin said the city is thinking of an "exit strategy" and Victoria police will soon begin handing out flyers that tell campers when they should move. Fortin did not say when that will happen, but Victoria police indicated it could be as early as Sunday.
Anyone who does not move by a specified date could by fined for camping during the day or for erecting a structure or holding an event without a permit.
The city has plans to put an ice rink in the square, which will coincide with the tree-lighting and Santa Claus parade on Nov. 26. Fortin said he no longer thinks the family-focused Christmas activities can be successful as long as there's a tent city in the square.
In the past week, emergency crews had to respond to a small fire in a tent and a non-fatal overdose.
Fortin said it is important to deal with the situation before someone dies.
In Vancouver Saturday, a woman in her 20s died at the Occupy Vancouver site in what firefighters said was a "medical emergency." Witnesses said the woman may have died of a heroin overdose.
Vancouver Mayor Gregor Robertson later reiterated the need to close down the tent city due to pressing safety issues, but he would not give a concrete date or way to end the protest.
Dozens of tents have been erected in Centennial Square since Oct. 15, when about 1,000 people marched to the legislature in solidarity with the worldwide Occupy movement in 851 cities.
Last Wednesday, the city shut off water supply to the square and the Capital Regional District shut off power. The public washrooms have been closed after toilets were broken.
Fortin said supporters of the Occupy movement should take a cue from groups in London, Ont., and Nelson and send their message in another way.
About 150 supporters of the Occupy Victoria movement rallied in Centennial Square and marched down Douglas Street to "occupy the banks" Saturday.
They briefly blocked traffic at the intersection of Douglas and Fort streets where three banks are located. Two of the banks responded by locking their doors.
kderosa@timescolonist.com
— with files from Postmedia News
We thought you might also be interested in..