Tragic death rocks Occupy Vancouver site
Nov 07 2011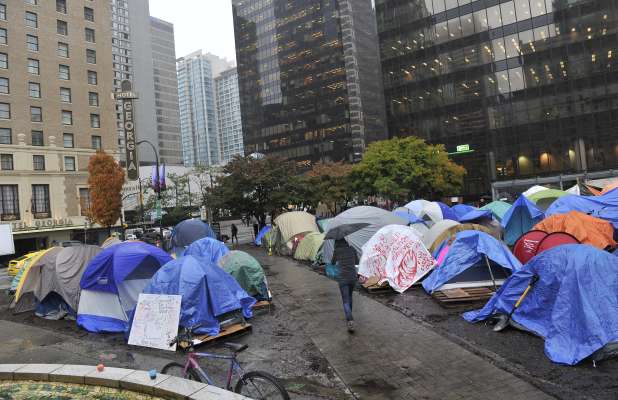 A woman died at the Occupy Vancouver site Saturday, according to reports.
Photograph by:
Jason Payne, PNG
A 20-something female died late Saturday afternoon of what authorities are calling a "medical emergency" after she stopped breathing in a tent at the Occupy Vancouver site.
The woman, whom Occupy participants were calling "Ashley" was found unresponsive by Occupy's medical team around 4:30 p.m. and was taken to the hospital, where she was pronounced dead. The death, following an overdose at the site Thursday, prompted Mayor Gregor Robertson to say there is an urgent need to shut down the site due to "life safety" issues.
"Obviously really really tragic circumstances - this loss of life and the overdose just a few days ago clearly demonstrate though that the situation here in camp has deteriorated. Life safety is paramount," Robertson said at an 8 p.m. media scrum on the west side of the art gallery. "I have directed the city manager to expedite the appropriate steps to end the encampment as soon as possible, with a safe resolution being absolutely critical to that."
Robertson hinted that city officials would begin to seek a legal injunction to stop the tent city, but would not give a concrete date or strategy to closing the tent city down.
Robertson said he has visited the Occupy Vancouver "site many times over the last couple weeks," which brought forceful denials from nearby participants in the movement.
Vancouver police spokeswoman Const. Jana McGuinness confirmed the woman who died was found "unresponsive" in an Occupy Vancouver tent, but it is unknown whether she was a resident of the tent city.
"We did what we could"
Chris Shaw, a 61-year-old former Army medic, was the first medic to respond to the woman in question. He said medics were alerted by someone who found the woman not breathing in a tent bordering Howe Street. Shaw said at the time they didn't know when she stopped breathing.
Shaw said he, along with two other Occupy medics, performed CPR on the woman for 10 minutes while they awaited the arrival of an ambulance.
"We did what we could. As a first responder you start CPR regardless and carry on until you are told by a higher medical authority to cease," Shaw said. "We saved one person, unfortunately we were unable to save this other one."
Shaw could not confirm whether the woman died of a drug overdose, but did say in some ways the situation mimicked last Thursday's medical emergency where a man overdosed, but was saved by Occupy medics.
"I don't want to see the media portray this as a reason to shut down the camp because of safety issues. You had medics on the scene as fast as possible," Shaw said. "People overdose in the city all the time, we were arguably there faster than EMT would have been there.
"The drug issues in the city are what they are and the city has to address them and in the camp I would argue people are... safer than they are two blocks away - where the same thing could have happened and no one would have found her."
McGuinness would not confirm whether the death was an overdose and said in a press release that "... no evidence has been uncovered at this early stage in the investigation to suggest the death is suspicious."
The B.C. Coroner's service attended the art gallery site and McGuinness said efforts to locate next of kin are underway.
Tensions were high while police investigators cordoned off a small section around the tent and friends of the deceased blocked some media from shooting video of the restricted area.
After media and police left the scene, the 7 p.m. general assembly was cancelled as Occupy Vancouver participants lined Georgia Street in a candlelit vigil and took to the art gallery steps to lament the loss of one of their own.
"The strongest love I've ever had is my own family around me, hugging them and letting them know I'm there for them, but there is no one there for this little Ashley," an emotional woman named Telaquaa said to a teary-eyed crowd. "It's like losing a daughter."
Meanwhile, other Occupy Vancouver participants were discussing how best to reduce harm on a site they say is alcohol and drug free. Around 8 p.m. staff from the InSite supervised injection site came to the art gallery and gave the medical tent nasally-administered doses of Narcan, a drug that can quickly reverse an overdose brought on by opiates like heroin.
Leah, an Occupy medic who refused to give her last name, said she took the man who overdosed on Thursday to Vancouver General Hospital after he was discharged just three hours into his hospital stay there.
Leah said the man, who is an American citizen with an amputated leg, was admitted to VGH's emergency ward after six hours of waiting. She said social workers visited the man and he is now in a detoxification program.
Occupiers say they are here to stay
Participants were adamant that they will continue to occupy the art gallery site and are planning to construct large domes to house multiple people, starting tomorrow.
"I personally believe what happened this morning wouldn't have happened if we had moved to a communal dwelling model," said Eric Hamilton-Smith, 28, a member of the infrastructure committee. "We're going to make this place a lot safer starting tomorrow, and that's all the city wants to see.. is us expressing ourselves politically, but safely.
"The domes are also going to go a great distance in making the place more aesthetically pleasing."
#OccupyCanada
On Saturday, members of Occupy Edmonton's campsite prepared similar plans to hunker down for the winter months.
After days of deliberation, the group decided to spend about $3,000 to buy two large military-style tents, said Occupy spokesman Mohamed Mahad, 23. The floor space of each tent is about five-by-five meters, Mahad said. One tent will be used for sleeping and meetings, and the group will decide how to best use the extra space in the second tent.
"We are here for the long haul," Mahad said.
There are about 20 protesters at the camp who still spend their nights in the dozen or so tents that remain at small, privately-owned park at the corner of 102nd Street and Jasper Avenue.
In preparation for winter, the group will begin dismantling the tents that cannot stand up to Edmonton's harsh winter weather. Some of the first ones to go will be tents used for dishes and donations, Mahad said.
"None of them can stand the large amount of snowfall," Mahad said. The protesters have also acquired a two room, four-season tent. Some protesters have also pitched ice-fishing tents in the park.
Meanwhile, supporters of the Occupy Victoria movement rallied in Centennial Square on Saturday then marched in an effort to "occupy the banks" Saturday afternoon.
About 150 people listened to speakers in Centennial Square who spoke about social justice and financial reform then proceeded to the intersection of Douglas and Fort streets where three banks are located.
Security guards at Royal Bank and TD bank locked their doors as protesters tried to enter, waving their client cards and indicating they wanted to shut down their account.
People were chanting "unlock the doors" as a security guard stood in the Royal Bank foyer.
The People's Assembly of Victoria said in a press release that Nov. 5 is International Bank Transfer Day "which seeks to shift our funds from the for-profit banking institutions in favour of not-for-profit credit unions, sending a clear message that conscious consumers won't support companies with unethical business practices."
Victoria's mayor said Saturday the city is planning an imminent shutdown of the Occupy encampment in Centennial Square, saying it's reached an unsafe level that is no longer serving its intended goal.
Anyone who does not move by a specified date could be fined for camping during the day or for erecting a structure or holding an event without a permit Mayor Dean Fortin said.
With files from Global News and Postmedia News
mhager@postmedia.com
www.twitter.com/MikePHager
We thought you might also be interested in..